The Punilla Valley or "Valle de Punilla" is located north of Cordoba City in the same province. It includes the towns of Villa Carlos Paz, Cosquin, La Falda, La Cumbre (do not mistake with La Cumbrecita) and Capilla del Monte among the most important ones.
The best this valley has to offer it's nature: mountains, rivers coming down leaving "ollas" (natural pools) on the way, specially nice in summer for us to cool down, some pretty towns to relax and as well as some adventure options such as paragliding, zipline, trekking and more.
When to come: all year around but summer is the most popular considering people love to dive into the rivers. The rest of the year is better for trekking, horseback riding and avoid crowds.
Excellent for self driving but still good for everyone.
Distances are short, there are many stops along the valley specially outside towns, ideal for driving yourself. Otherwise you can get here and move around very easily with local buses and the excursions available in each town but it requires more time.
Villa Carlos Paz
Villa Carlos Pas is a town with plenty of life, famous among young people and families, filled with theaters, crowded bars and restaurants but not so much nature as the rest of the province although it's on the way between Cordoba City and almost any other touristic place in the region.
It is worth making a short stop if you are driving doing the Valle de Punilla or the Ruta de las Altas Cumbres, specially for eating, having some drinks and see the costanera. Lastly you can use it as gateway for the Quebrada del Condorito National Park and some other less famous attractions in the area if you want a confortable place to sleep.
For the average traveler this is not an interesting place. It's very famous on name because schools bring their students on trips here and some other not travel related reasons. In general, not very interesting place for a traveler.
Read more about Villa Carlos Paz: full article.
Cabritos

Tira de asado, cabrito, chorizo and more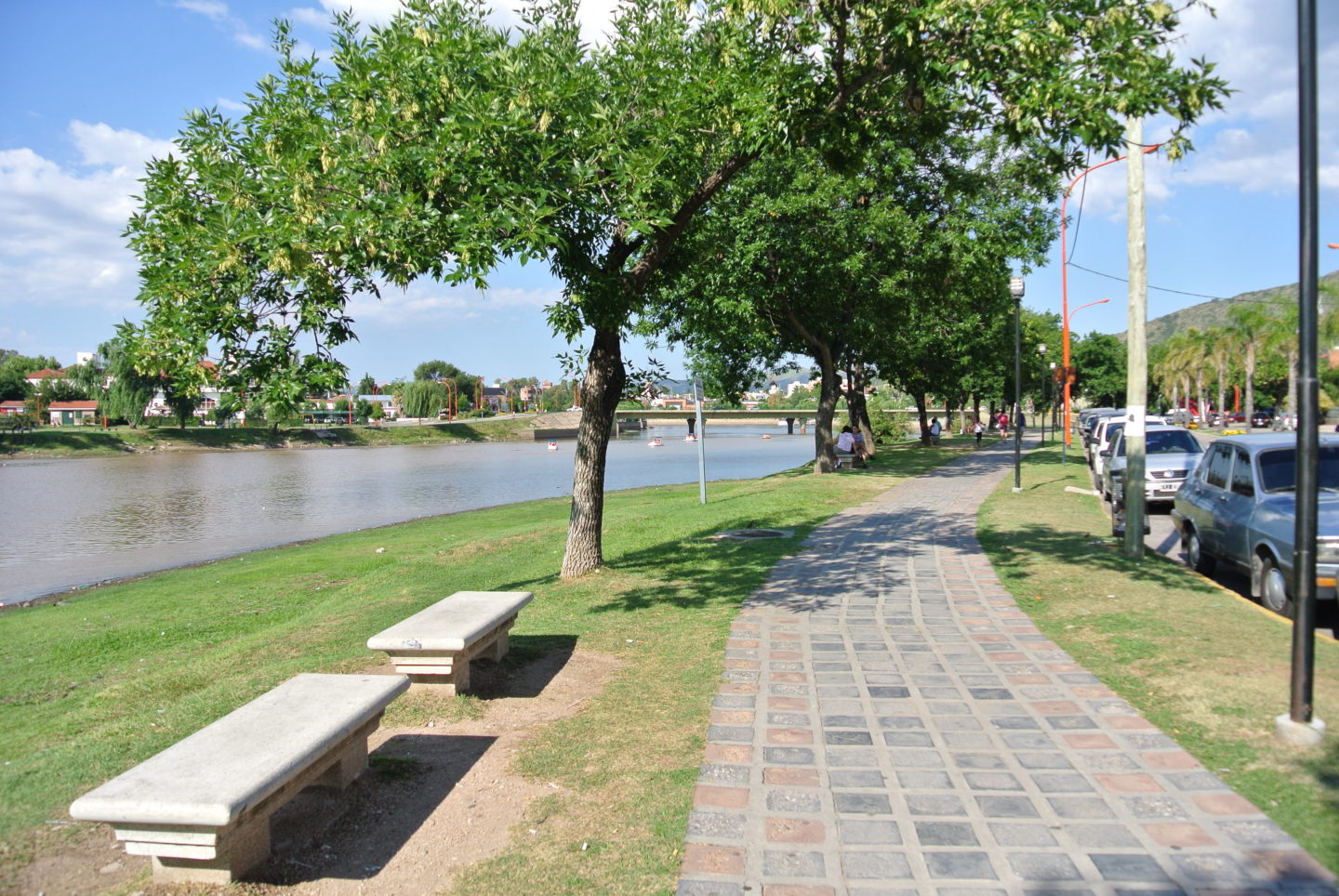 Camino de las Cien Curvas
The Camino de las Cien Curvas (Hundred Curves Road) is the road (Av. Back) leaving Villa Carlos Paz up to the Dique San Roque through the mountain along the lake. The road is paved and has some panoramic points, one stop it's enough. Prettier than taking the highway and not much slower.
View on the Camino de las Cien Curvas

Río Primero / Suquía (Dique San Roque)
Cosquin
Cosquin is a famous town where takes place the famous National Folk Festival as well as the Cosquin Rock. Beside for these events the town has no much to offer but you can do a stop to visit the Cerro Pan de Azúcar. I don't recommend spending the night here.
Cerro Pan de Azucar
Cerro Pan de Azucar is an important mount in the region from where you get a panoramic view of the valley after getting into the liftchair going to the top. The complex has parking lot, some shops and a basic restaurant (before climbing the liftchair) not too recommended but very practical.
Location: Google Maps.
Parking : 1 USD.
Liftchair: 6 USD.
Duration: 2-3 horas.
Servicies: shops, kiosk, restaurant.
How to get to Cerro Pan de Azucar
The mount is located east of Cosquin, right at the edge of town there is a gravel road (RP54) that leads to the parking lot of the complex. To get to the top of the mount ride on the liftchair.
Cloudy? If in town you cannot see the mountain then you won't be able too see much once you get to the top. Bring some jacket even in summer, temperature can drop a lot up here.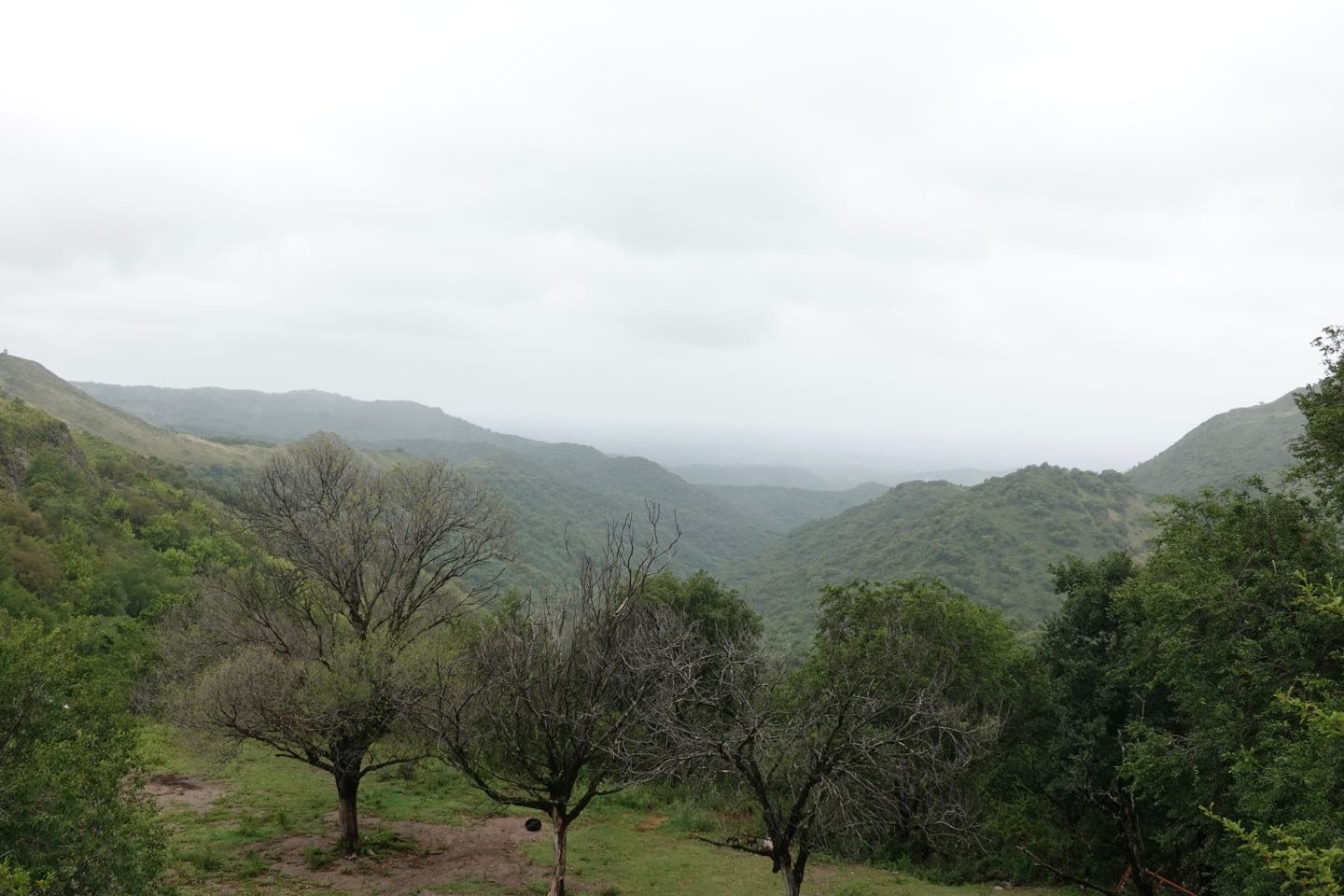 Cascada de Olaen
Cascada de Olaen (Olaen Waterfall) is located in the middle of the nature away from the towns. This waterfall forms a big natural pool very pretty and also perfect for refreshing yourself on those hot summer days. The remote location makes it great to avoid the crowds other swimming areas in the valley get. I wouldn't say this place is a no-go in other seasons, no swimming but still pretty.
Pampa de Olaen is the area you will pass through to get here, also very pretty without many stops, mostly is just for enjoying the ride.
Location: Google Maps.
Excursion:
Entre fee: free.
Parking: 7 USD.
Duration: 3-4 hours up to a whole afternoon.
Services: store for drinks, beers, milanesas and burgers at good price.
Tip: Don't forget sun screen.
How to get to Olaen Waterfall
By car you can take the road north of Cosquin westbound or the road leaving La Falda towards west as well. Both are gravel roads, it will take approximately 1 hour one way.
Excursions depart usually in the afternoon from Cosquin, La Falda, Capilla del Monte and probably other towns as well.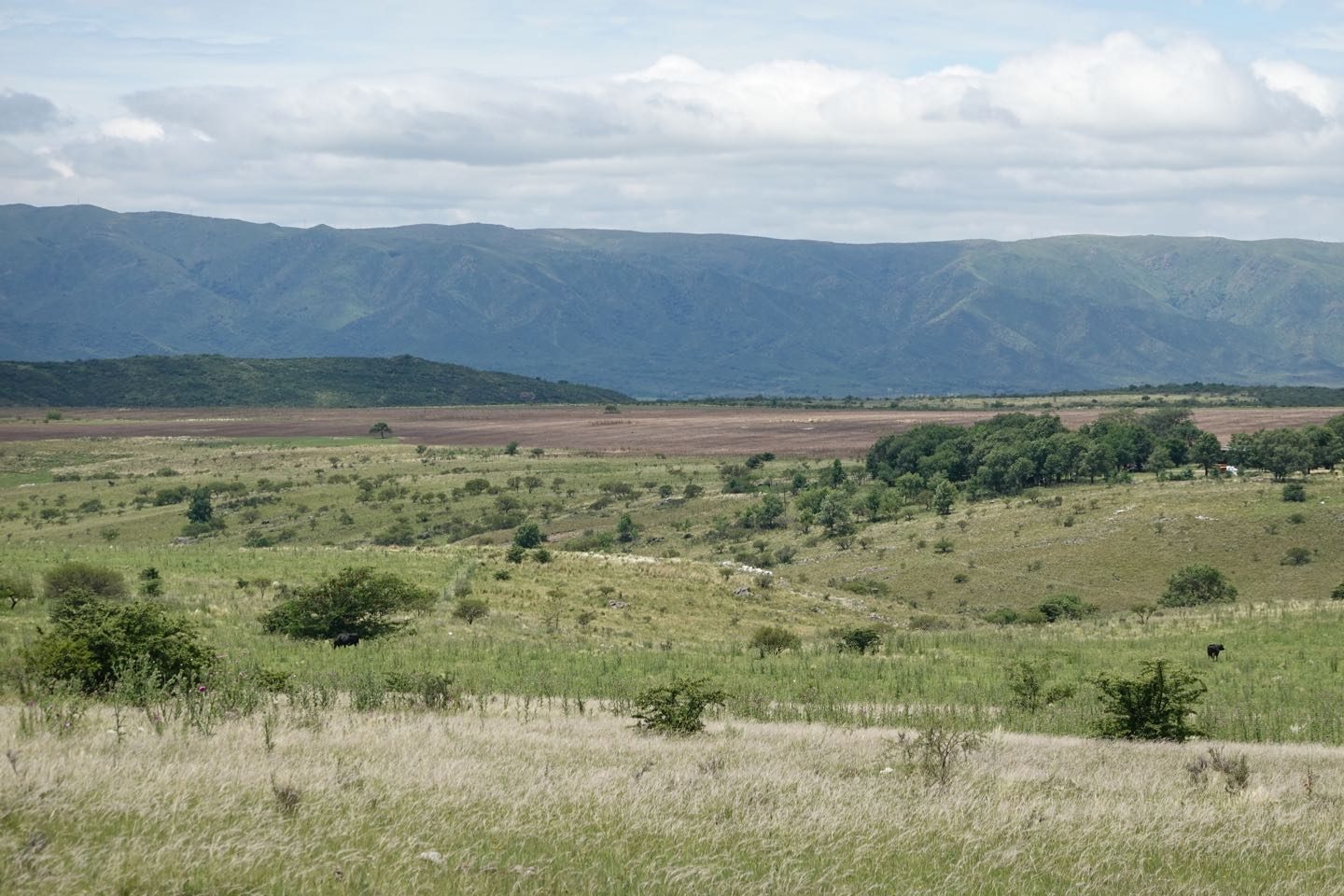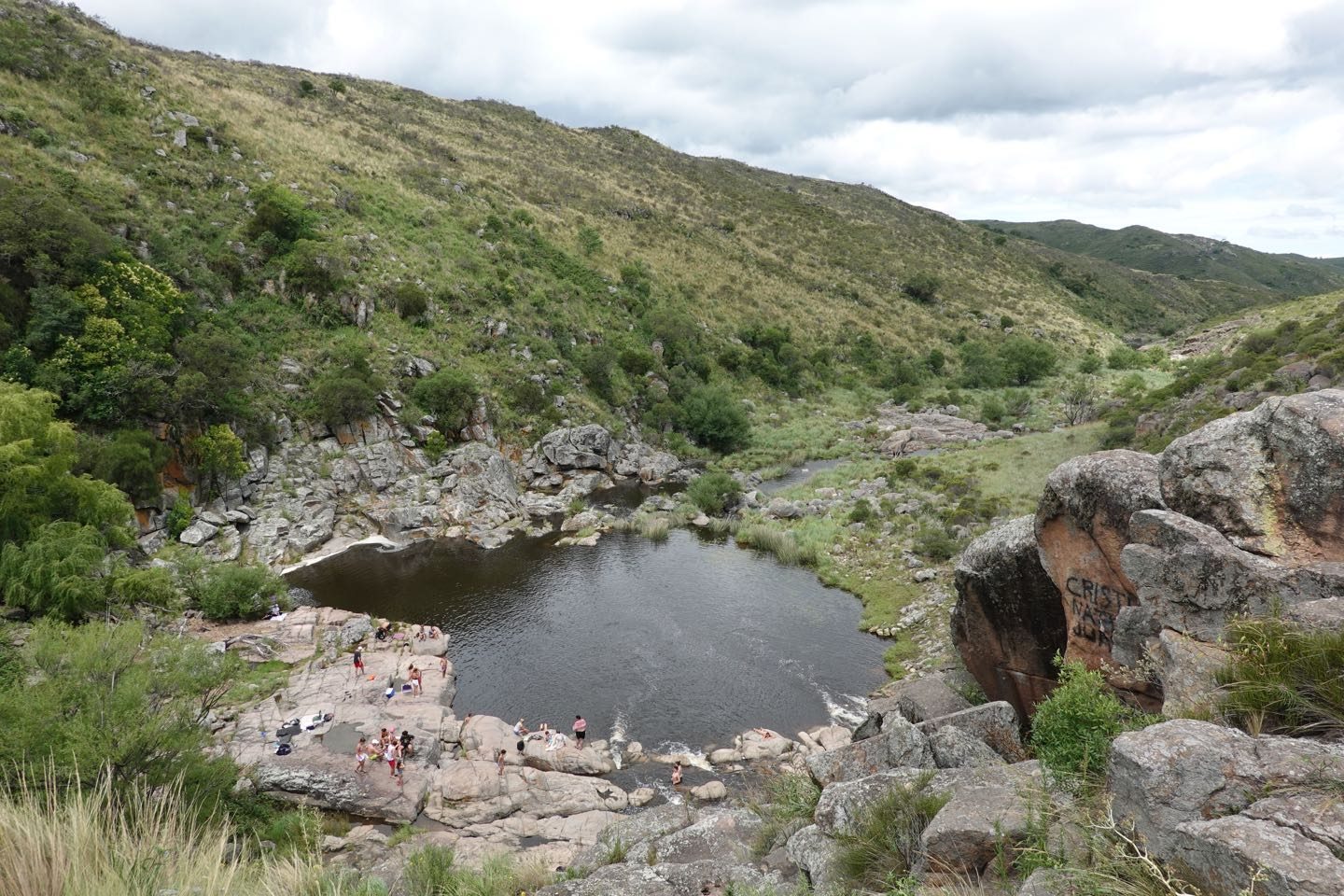 Food & Drinks

Curious gorrion
La Falda
La Falda is a popular town as a vacation destination, specially among families. For the traveler who wants to explore is not a place worth spending the night. The town itself is not very special, the biggest reason to stop here is for the abandoned Hotel Eden.
Other attractions includes the Siete Cascadas, Cerro La Banderita and serves as one of the gateway for the Cascada de Olaen.
Where to sleep in La Falda
Most of the hotels here have an old looking style not very pleasant. Among the best options you can find:
If you have a vehicle I recommend not spending the night in La Falta, keep driving to La Cumbre which is very close, it has better hotels and the town is lot prettier.
La Falda

Happy stray dog
Hotel Eden [abandoned]
The Hotel Eden was a very important one which hosted people such as President Perón, Che Guevara and even Einstein. The owners where nazis who help Hitler get to power financing his campaign, they were close enough that even the CIA believed with a high degree of provability that Hitler himself could have been hiding here.
The hotel was build in the 1900 in the middle of nowhere on a private land so big that had many mounts inside of it and it was extremely luxury for its time, not because of the style but because of the technology and the services. It had a pool with fresh running water from the mountain to make sure it was super clean and prevent disease which was a serious issue. It had its own fleet of cars back then and a private workshop inside the hotel, a communication tower which send encrypted messages to Europe and even its own electric generator at a time when entire towns in Argentina were still using candles.
When the hotel hit rough financial times they started selling part of its massive land in small lots which people would buy and build their houses which were supplied of electricity from the hotel, and thats how the town of La Falda was born.
The Hotel Eden it's a really interesting stop for people who likes history, war or nazi related topics as well as abandoned places. The visit is done as a guided visit were you will hear the full story of the place and ask not only about it but also to see some specific parts of the hotel you might feel like it, the guides are nice and open to show you unless it's a place with risk of falling down which they are trying to recover and make it safe to visit.
Location: Google Maps.
Entry fee: 2.5 USD.
Guide: included on the price. Only spanish available.
Duration: 2 hour.
Night visit also available.
How to get here: walking.
Website: http://edenhotellafalda.com
Where to eat: restaurant on the way El Molino ($$).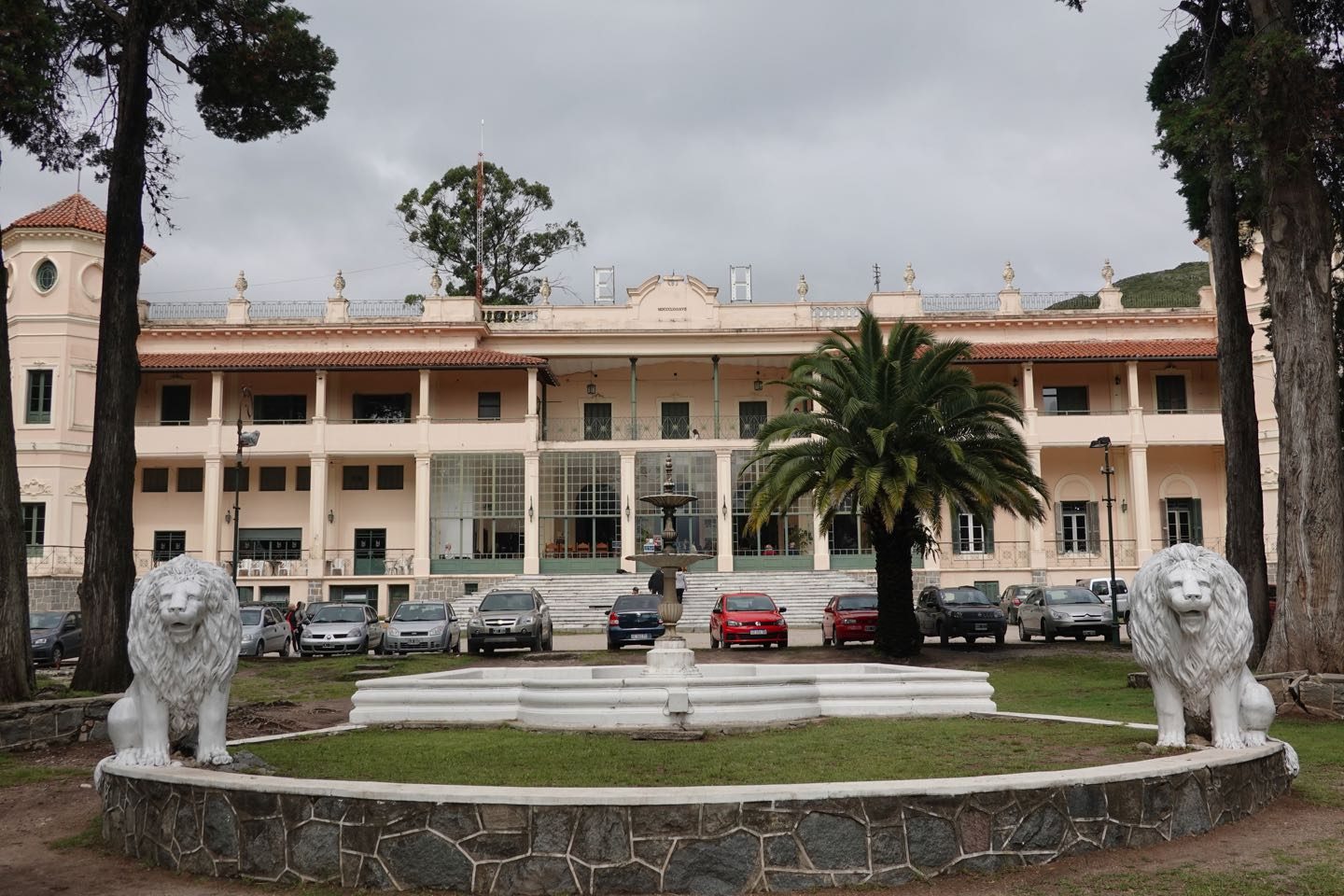 Balcony

Another area of the hotel
Siete Cascadas
The Siete Cascadas (Seven Falls) is a recreational complex with artificial pools, restaurants, crowded as hell, not very attractive but very close to La Falda town, practically inside it.
The "seven" waterfalls are actually just one with seven jumps all together. You can go into the pool at the feet of the jump as well as the river, it does look pretty but only this exact stop for the picture. The urbanization of the complex around the falls and the crowds setting up gear like in a backyard makes feeling of the place not good at all. I do not recommend it. If you have the change go to the Cascada de Olaen instead.
Location: Google Maps.
Entry fee: 5 USD.
Parking: free.
Duration: 1-2 hours but people usually come for the whole afternoon.
How to get here: buses.
Siete Cascadas

Views of the complex
La Cumbre
La Cumbre is the best town to sleep in the Punilla Valley. This town is probably the prettiest and the best located (in the center of the most popular area of the valley). The main attraction of the place is the town itself with its beautiful European style houses, mainly the British ones which stand up in the country.
La Cumbre is quite small, 3 blocks long downtown but you can find a good amount of nice and chill restaurants to enjoy a relax evening after exploring the valley in daytime.
There are not many excursions on La Cumbre compare to others towns in the valley although you can still find some. This place is excellent for self driving to enjoy a nice stay in a pretty boutique hotel and take advantage of the location as gateway to any point in the valley for day trips.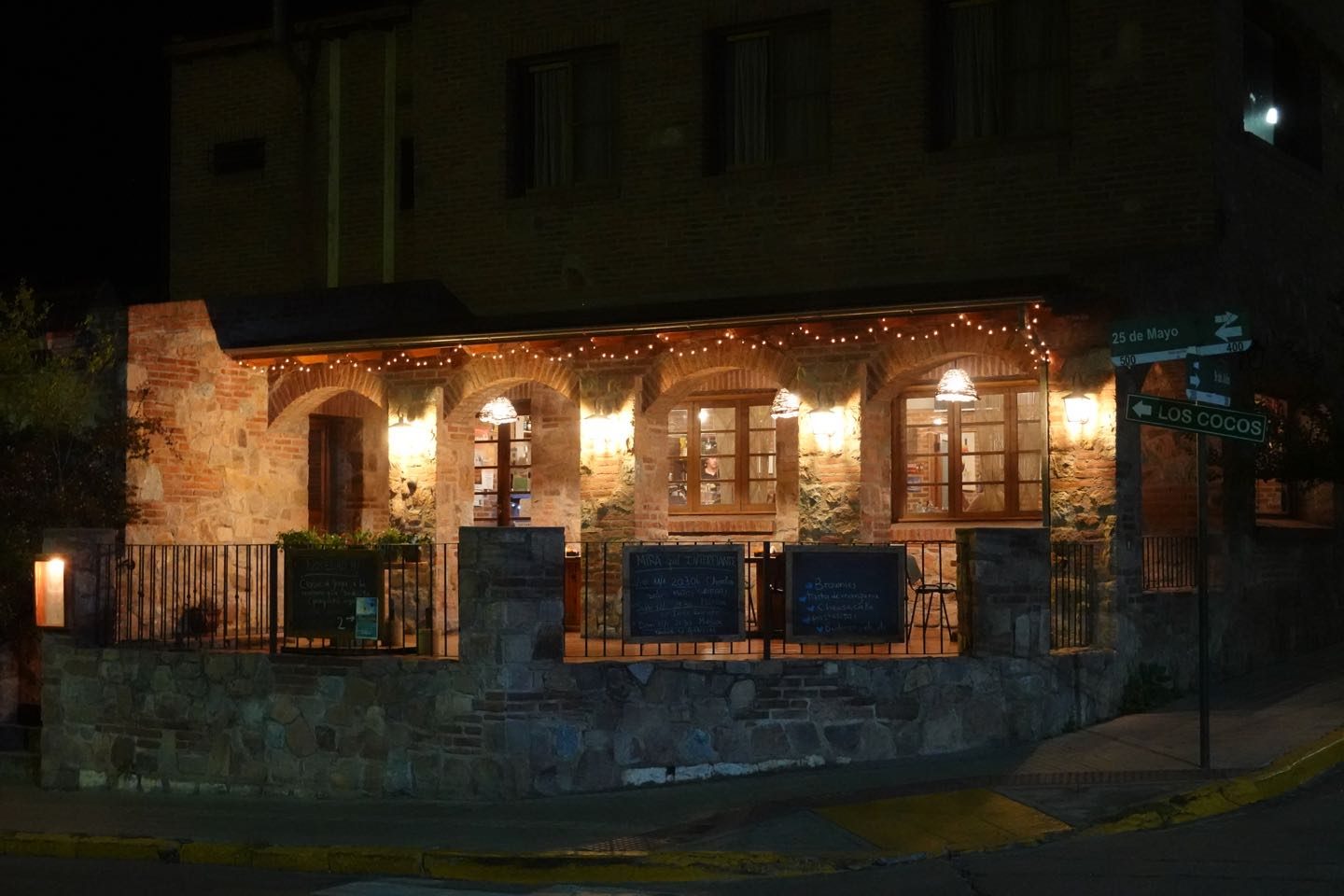 "Parrilla" restaurant La Casona del Toboso

"Parrillada"
Where to sleep in La Cumbre
Forget about modern big hotels, the town strength is the boutique hotels. Old mansions from different European style turn into cozy lodging options.
La Cumbre can be split in two: the town itself and Cruz Chica (see below).
The town is essential for those on public transportation.
Cruz Chica has some of the best hotels and not always more expensive but you need a vehicle.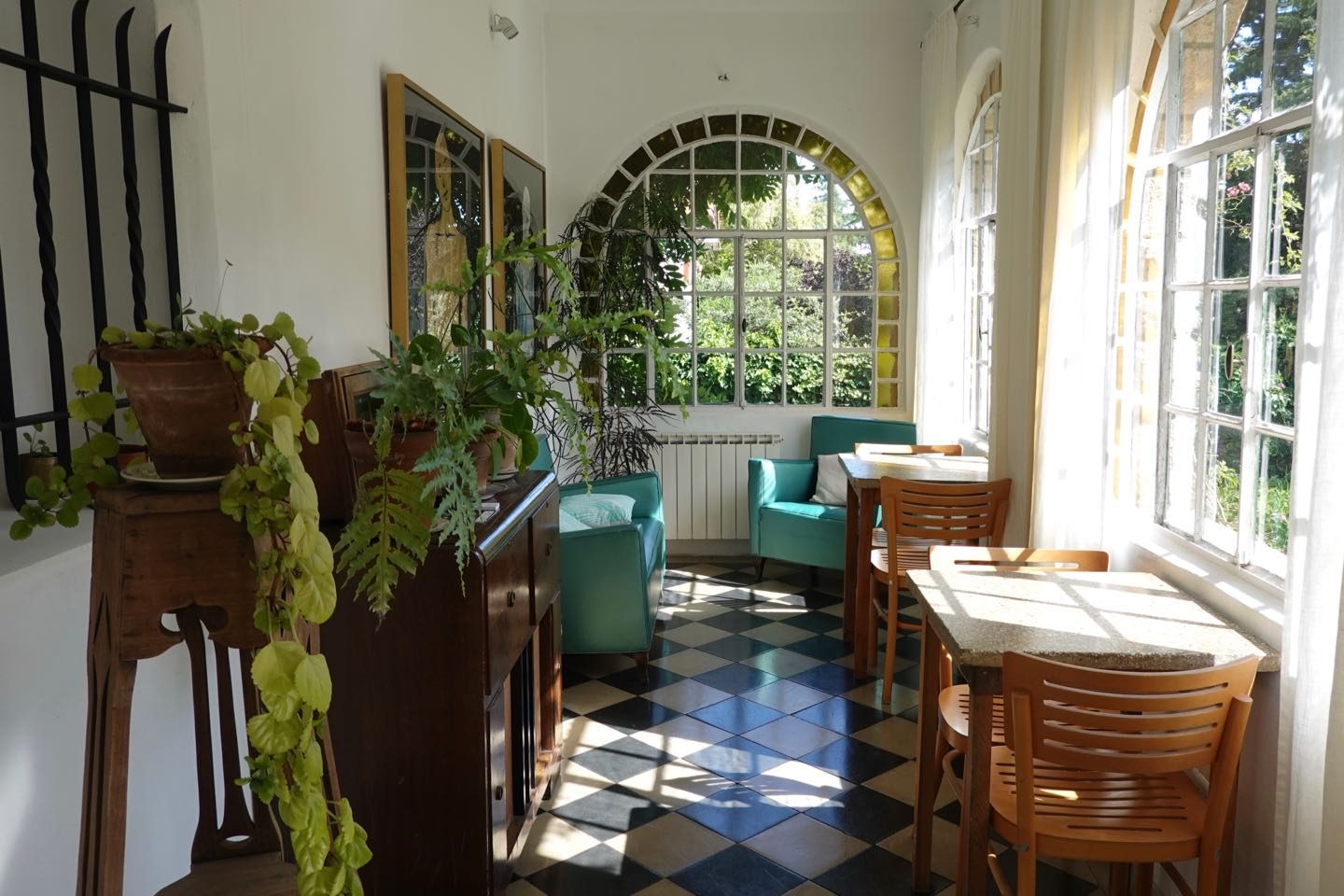 Waking up

Homemade breakfast
Cruz Chica
Road from La Cumbre to Los Cocos (Av. Bartolome Jaime)
Very pretty, ton of mansions, museums and similar places.
Lot more interesting driving through here instead of the main road of the valley (RN38).
Some of the attractions in the way are: Casa Museo de Mujica Lainez here some famous writer lived. The house could be interesting because of the style. El Mercado de Pilar Benzi is a theme stop because of the motorbike museum and lastly Los Cocos, a town for family vacations: amusement park, liftchair and more.
Cuchi Corral
Famous mostly for paragliding but if that's not your thing you can still enjoy the viewpoint Mirador de Cuchi Corral as well as the swimming area Balneario Río Pinto after descending from the viewpoint.

Capilla del Monte
Capilla del Monte is one of the most important towns in Punilla Valley. Famous for UFO sights, naturists people, backpackers and travelers instead of the family vacationing focus of the rest of the towns in the area.
"Capilla" has more attractions around it than any other in the valley. Most are nature type. This is also the best place to use as gateway for the whole valley if you are on public transportation (not counting Carlos Paz). Easy to get here and ton of excursions from here to the attractions around in town as well as the ones in other towns.
The attractions based in Capilla del Monte are:
Pueblo Encanto
Los Mogotes & Paso del Indio
Dique El Cajon
Balneario La Toma
Cerro Uritorco (hike)
Huertas Malas (hike)
Dique Los Alazanes (hike)
Agua de los Palos / Cerro Las Gemelas (horseback riding, hike, paragliding)
Los Terrones
Grutas de Ongamira
The town itself is fairly large, it counts with many tour agencies, hostels, camping sites, bars and restaurants but not so many nice hotels as other towns in the valley. Nothing really stands up in town, the most important stops are the commercial street La Techada (bars, restaurants and tour agencies), the Parroquia San Antonio De Padua (not very interesting) and the Centro de Informes de OVNIs only if you are interested in UFO. It might be interesting for many Pueblo Encanto, which I would count it as a self done excursion because how it's visited instead of part of town.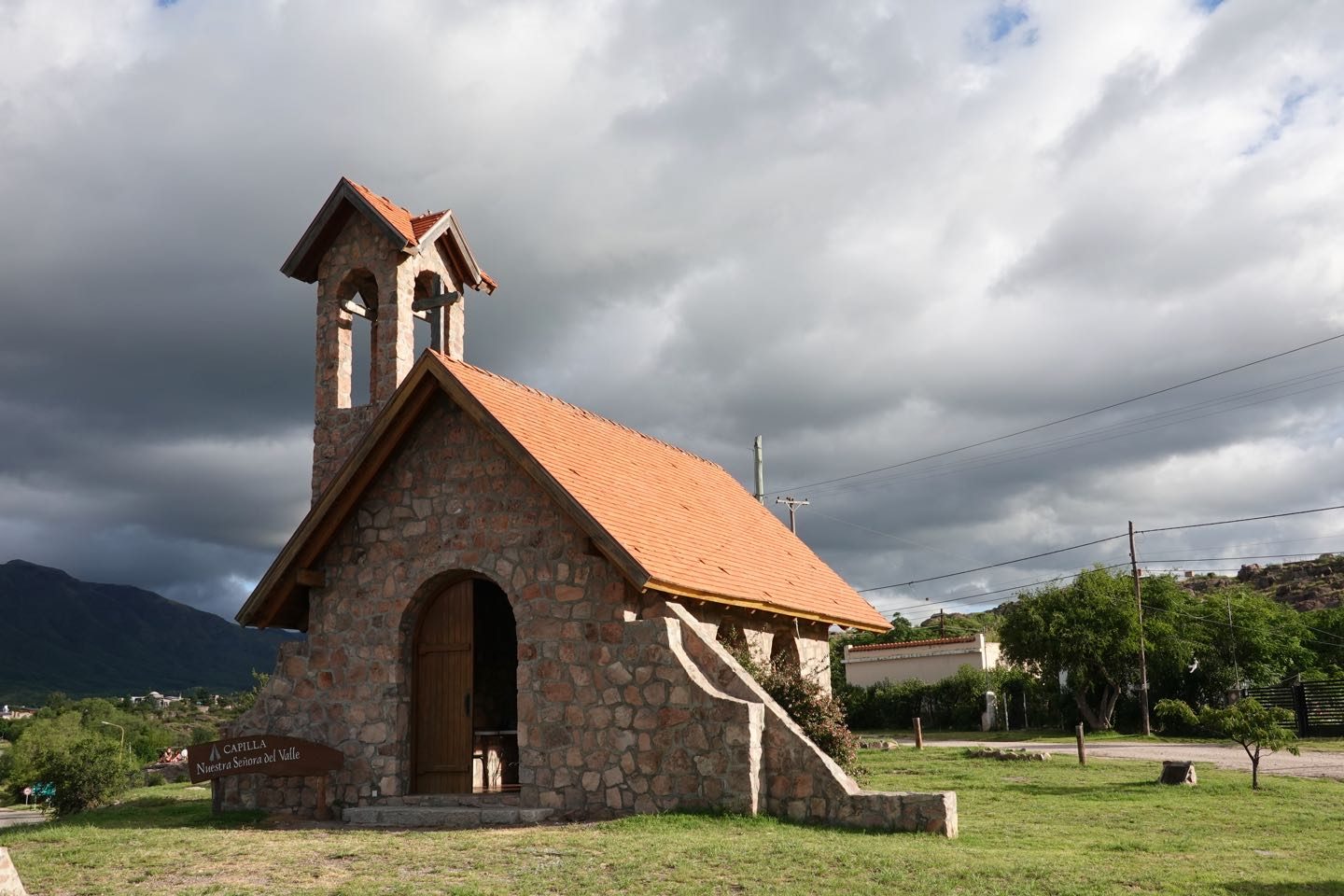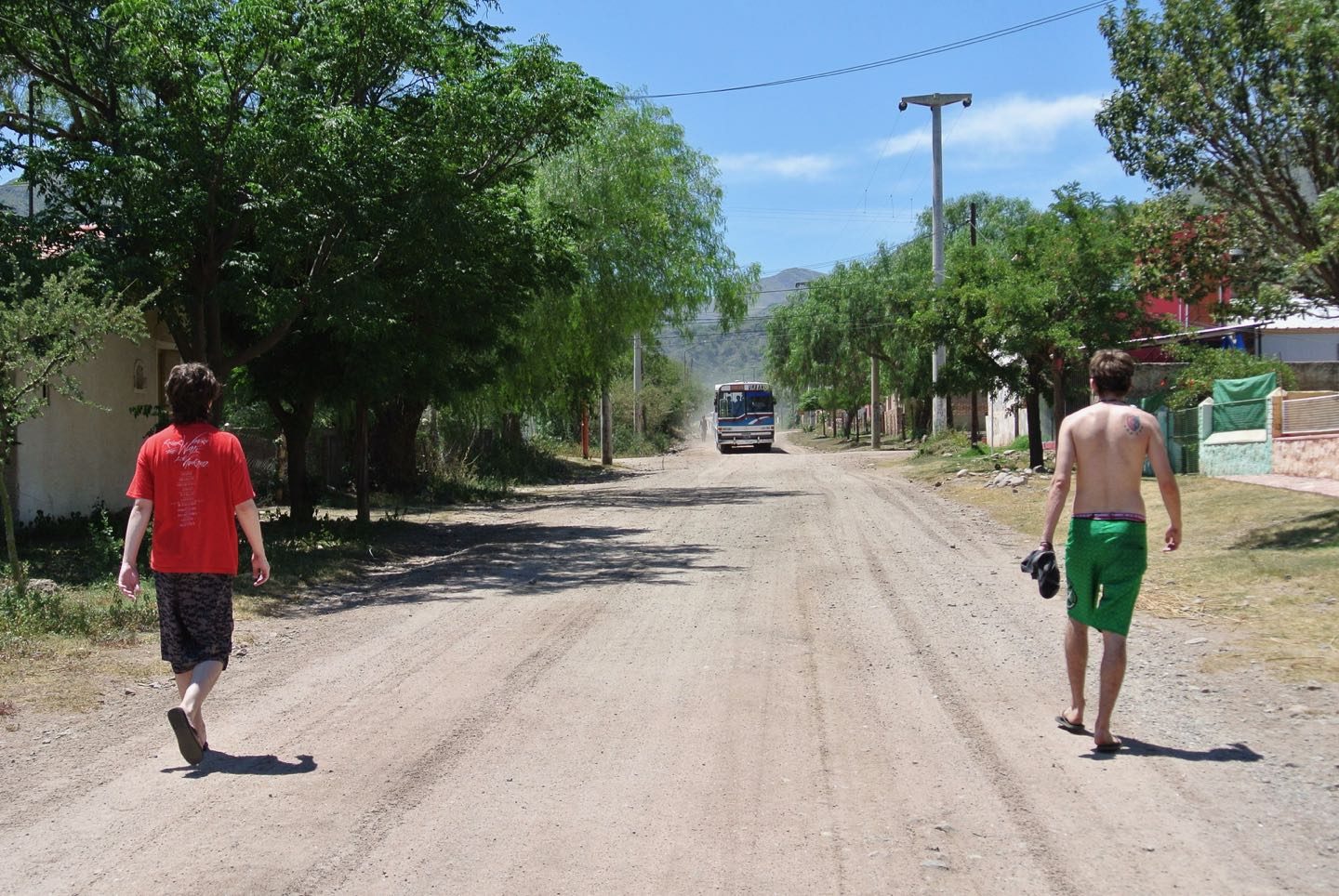 La Techada

Munay Restaurant
Where to sleep in Capilla del Monte
Capilla is not small and just few blocks away from downtown the streets get very dark at night. Best is staying in downtown area unless you have a car. In this case you could pick a nice place at a good price.
Prices vary a lot depending on the season, going high season (mainly summer).
Villa Margarita ($) best hostel in Capilla. Excelente location. It also has private rooms.
Mousai ($) beautiful hotel. Cheap. Downtown. Modern style.
El 44 Reserva Natural ($$$) the best hotel, farm-private reserve style. Good location. Expensive in high season. Medium-high price the rest of the year.
Terrazas del Uritorco ($$) another nice option well located.
La Guarida ($$) cabin style rooms outside the main building, one hectare land. Ideal for relaxing and having some privacy. I has and outdoor pool as well as an indoor one semi climatized. Quite far away from downtown, you must have a car. Not perfect but good value for money (prices go too high on weekend, not recommended then). Excelente food. Only adults so no screaming running around kids. Bad points: construction mistakes, windows you cannot close as well as a treat that try to be exclusive explaining every little detail but end up annoying you although with good intentions. I stayed here.
Camping La Toma: very popular option among backpackers. Located in the Balneario La Toma where you can spend your days in the river as well as go to the hiking trails to Cerro Uritorco, Huertas Malas y el Dique Los Alazanes which starts right here. This place is a bit far away from town but there are city buses go get there.
Los Mogotes & Paso del Indio
Los Mogotes is a swimming area with some restaurants where spend the afternoon cooling down. Inside this complex there is the main attractions: the Paso del Indio, a nice hike between two big rock walls. The hike is short, easy and well marked. At the end of the trail there is a hard to climb narrow pass between two rocks, the Paso del Indio itself, once you get to the top you get nice panoramic view. If you cannot climb it don't worry, the view is very similar from the base.
This place is also famous for the rock climbing sport.
Location: Google Maps.
Entry fee: 1 USD.
Duration: 1 hour + swimming time.
How to get here: the most common option is by private car. There are also excursions. Lastly is possible walking from town but it's a long way I do not recommend it.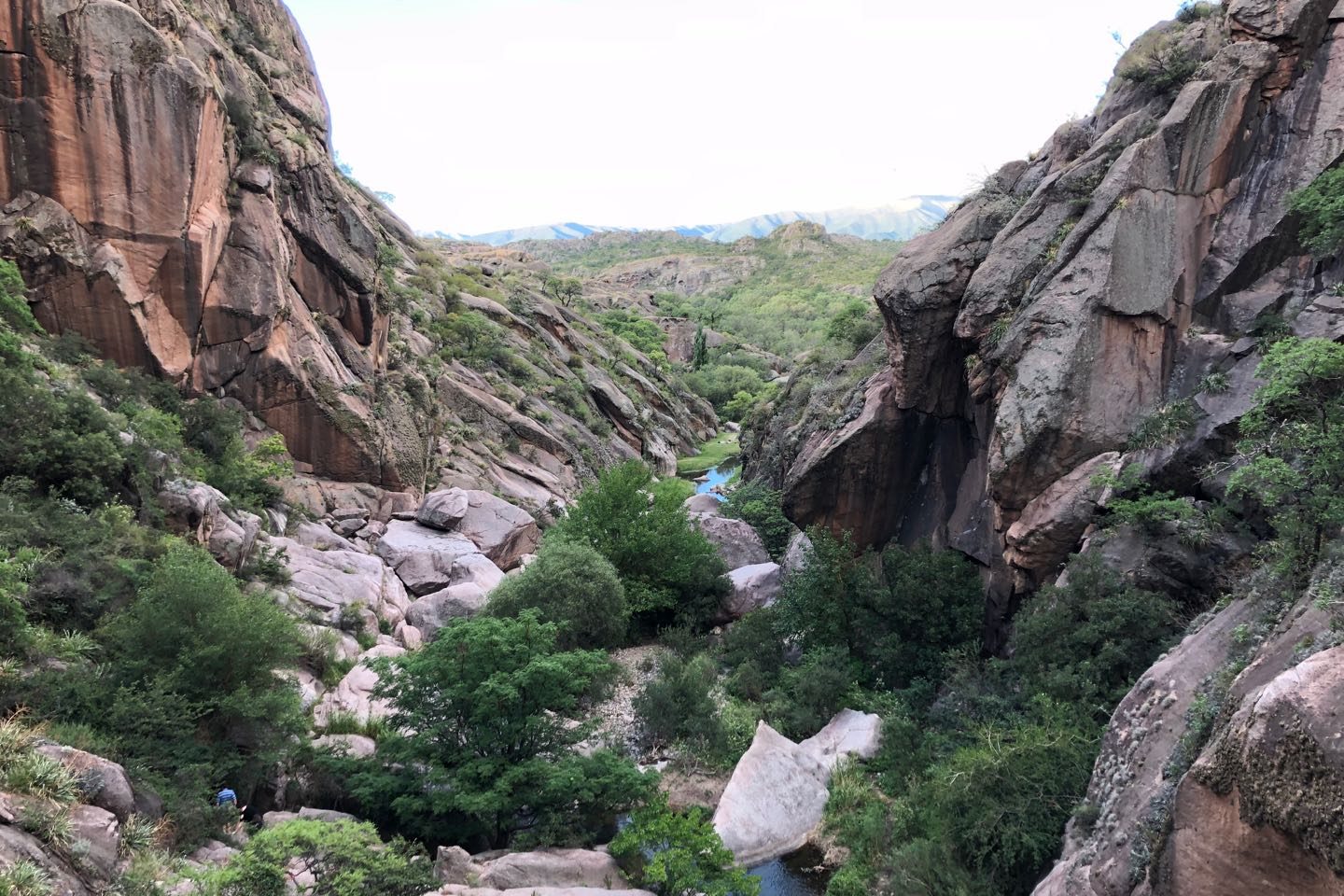 Dique El Cajón
Dique El Cajon is a dam which form a nice lake but the most interesting thin here is the view towards the town with the mountains behind it. Ideal to see the sunset. There are many viewpoints on the way and around, all very different: some focus on the lake, other in the mountains, other in a valley.
On the way to the dam there is another popular stop El Zapato (The Shoe) a rock formation with shape of… a shoe. Here you also get some panoramic views of the mountains and the lake.
Location: Dique El Cajon. El Zapato.
Entry fee: free.
Duration: 1 sunset.
How to get here: walking from town or better by car.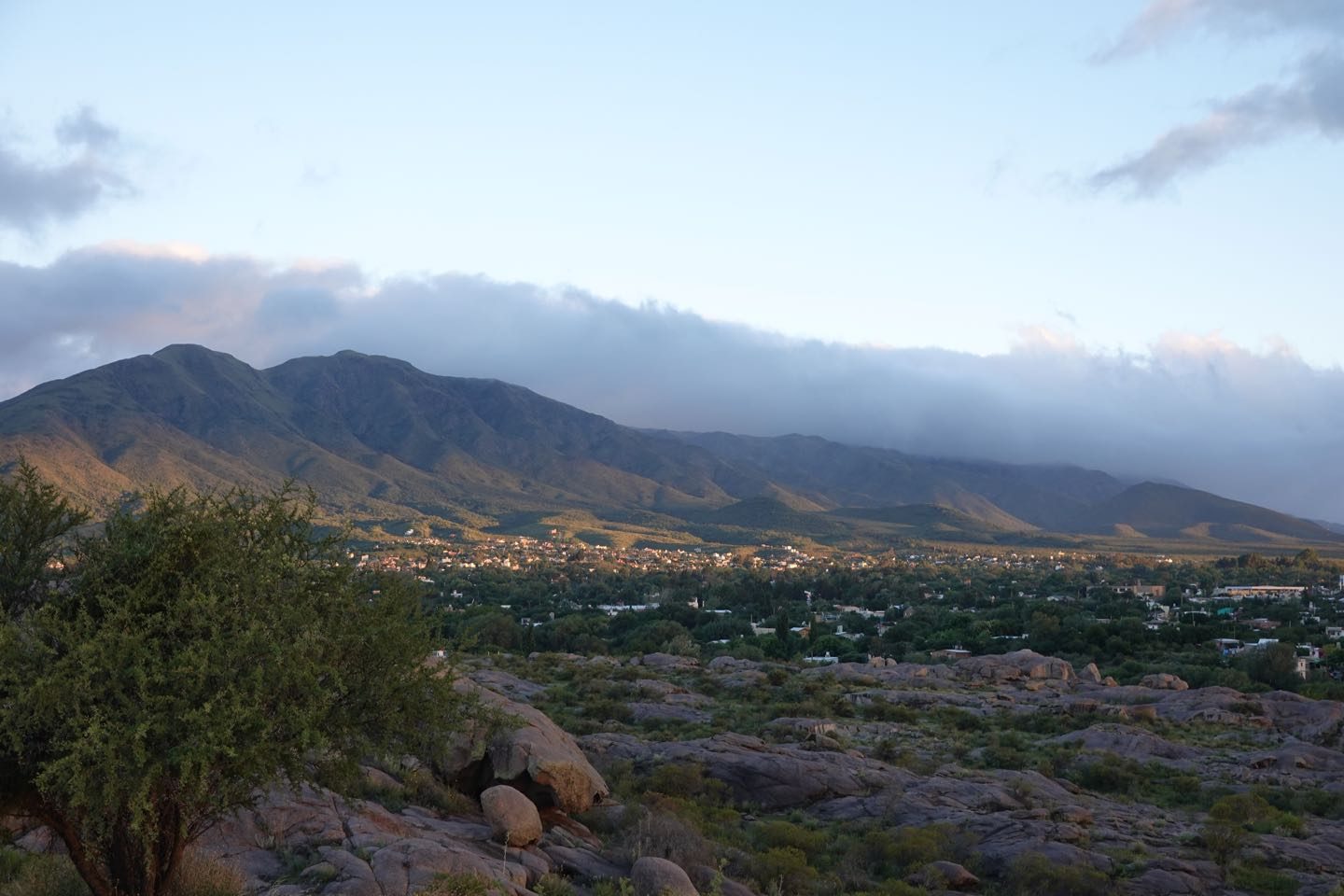 Balneario La Toma
Balneario La Toma is swimming area in the mountains where a river leaves natural pools along its course for soaking in on those summer days. You can follow the river deeper into the mountains but just focus on a short walk and relax, the river goes all the way to the Dique Los Alazanes and there's another one going to Huertas Malas which are full day/overnight hikes usually done through a different path.
This complex has a camping site and it's the starting point for hiking up to the Cerro Uritorco, as well as the regular hiking trails to Huertas Malas and the Dique Los Alazanes.
Location: Google Maps.
Entry:
Parking:
Duration: 3-4 hours up to a full afternoon.
How to get here: city bus or a long walk from town.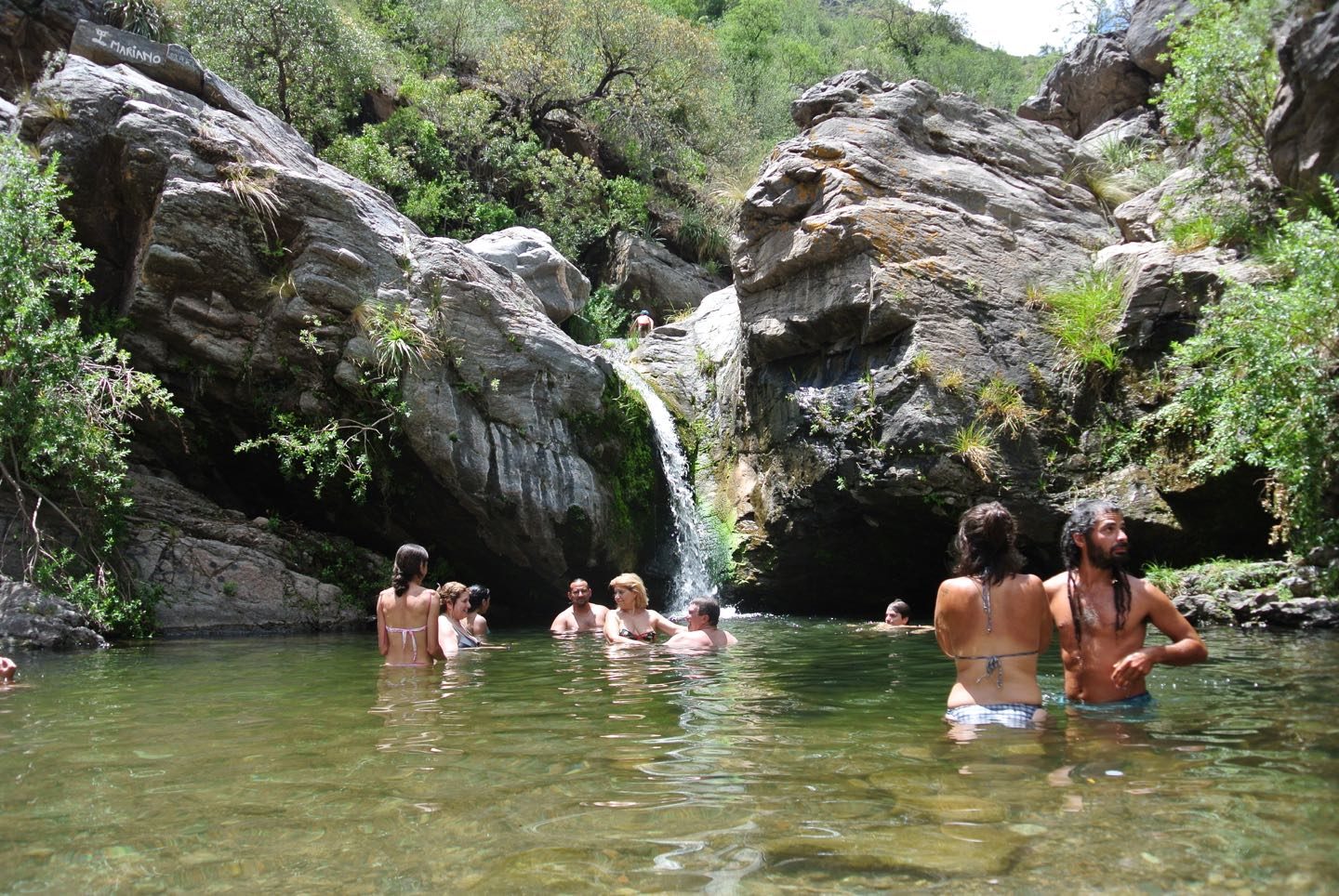 Cerro Uritorco
Cerro Uritorco is famous mount among UFO lovers and hikers. Great option for people with no experience looking to get their first hike.
This mount is climbed on foot in a full day (or half day) through a marked trail, three is even a shelter almost at the top where spend the night if you want to make get a special experience. It is not a technical hike (meaning you don't need special skills) but you need to be able to go uphill for few hours.
Some variants for the climb: normal hike with guide, for sunrise, for sunset, for sleeping in the mount.
Locaiton: trail start.
Entry fee:
Parking:
Shelter: 20 USD. Includes park entrance.
How to get here: city bus or long walk from town.
Website: http://cerrouritorcoam.com.ar
Technical information
Activity: hike.
Duration: 6 hours.
Distance: 10km return.
Circuit: no. Return is same trail.
Trail: marked.
Technical difficulty: none.
Park ranger: yes.
Max altitude: 1949m
Gained elevation: 900m
Wikiloc GPS Track.
Huertas Malas & Dique Los Alazanes
These are the other hiking options, each one takes several hours walking and usually involves spending the night camping. You need to have the gear, been in good shape and be careful not to get lost.
These are great attractions but it requires of the camping gear or finding a very uncommon excursion for your dates so the details about these hikes will go in another article.
Huertas Malas: it's hard to explain the charm of this place. This hike leads to the base of a gorge surrounded by vegetation with mystery vibes and calm where to have a lovely night camping. Nowadays they ask to go with a guide but since the first half of the trail is the same one going to the Dique Los Alazanes (ok to go alone) you can say you are going there so they won't stop you.
Dique Los Alazanes: a dam in the middle of the mountains usually visited hiking. The trail cross a river many times until you get to the dam where you camp and come back to Capilla the next day. It's possible to merge this trail with Huertas Malas. Alternatively you can get here horseback riding from Agua de Los Palos.
Travesia Los Cocos: mountain lovers can combine both hikes into a longer one avoiding coming back throw the same trail. Start in Los Cocos (La Cumbre) camp at Dique Los Alazanes, next go to Huertas Malas where spend another night then finish in La Toma (Capilla) or head up to the Cerro Uritorco. An adventure for a full weekend in the mountain.
Huertas Malas in May

Camping
Agua de los Palos & Cerro Las Gemelas
Agua de los Palos is a recreational complex with pool, restaurant some nice viewpoints but the best of the place are the activities: horseback riding, trekking and paragliding.
Via Crucis viewpoint: to get to the complex you have to go through a somewhat long gravel road, one way only for vehicles (you exit on a different road). Half way through there is secondary road on the left leading to the Via Crucis. If you missed it you won't be able to come back later. Check the map of the complex I attached. I missed it…
Cerro Las Gemelas "Mount The Twins" is the second most important mount in Capilla. It's accessed from this complex either on foot or by horse. Since Capilla has the Cerro Uritorco for hiking it's great option to come to Cerro Las Gemelas horseback riding.
There are other trekking and horse rides available, some shorter that is basically going half way to mount or longer ones which go all the way to the Dique Los Alazanes. The perfect one is to the Cerro Las Gemelas.
Location: Google Maps. Map of Agua de los Palos.
Entry fee: free.
Parking: free / at will.
Horseback rides: 10-40 USD. Map of the circuits.
Duration: 1 hour + activity + waiting time.
How to get here: by car, its possible on foot but it's quite far.
Website: https://aguadelospalos.com.ar
Horseback Ride to Cerro Las Gemelas
Price: 20 USD.
Duration: 3 hours.
How to book: just show up at the "monturero" where the horses are.
Contact: Gabriel (+54 3548 573593) if you want to coordinate the ride to avoid unnecessary waitings. Spanish only.
Recommendation: in summer start early in the morning to avoid the sun and the intense heat. There is not shade.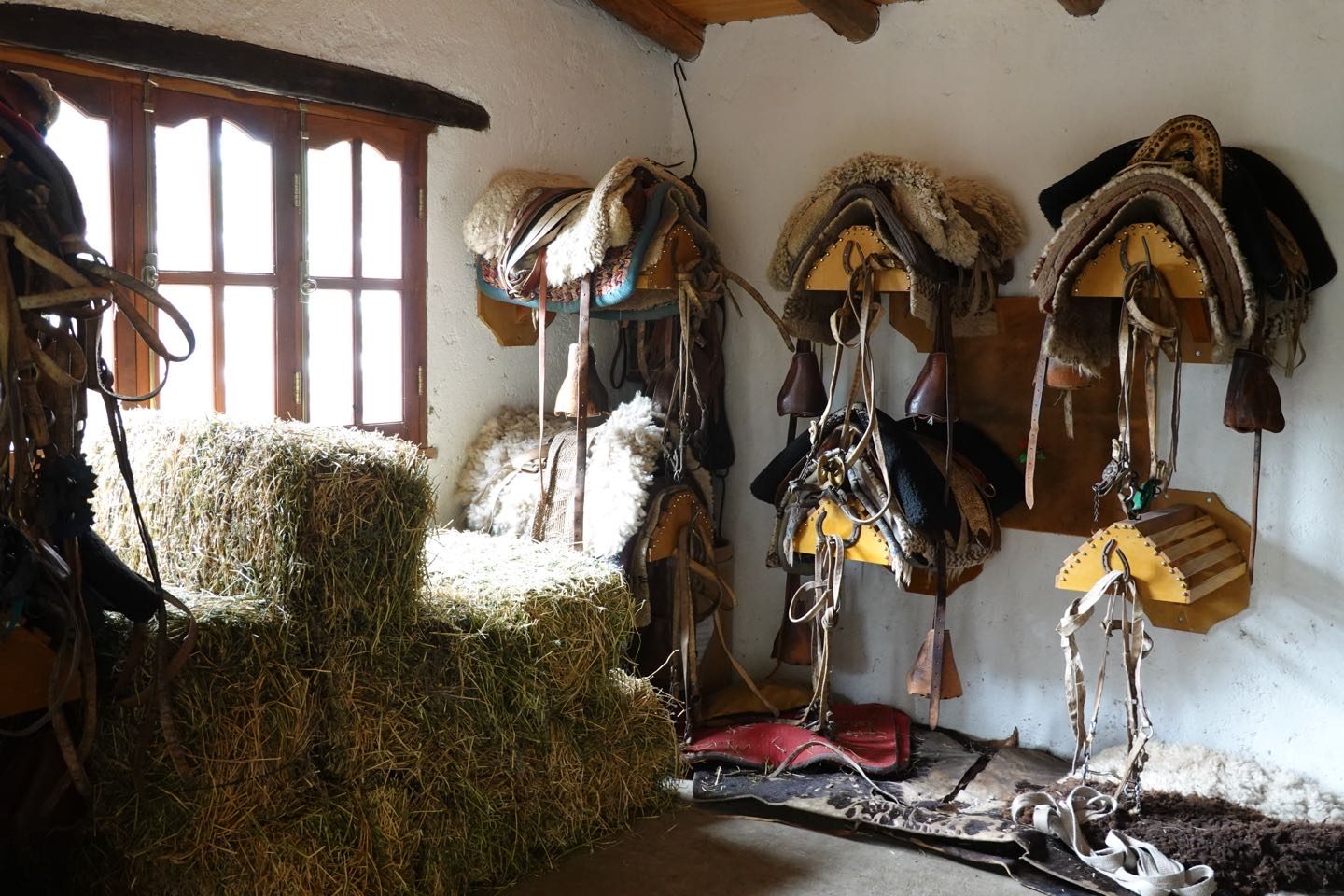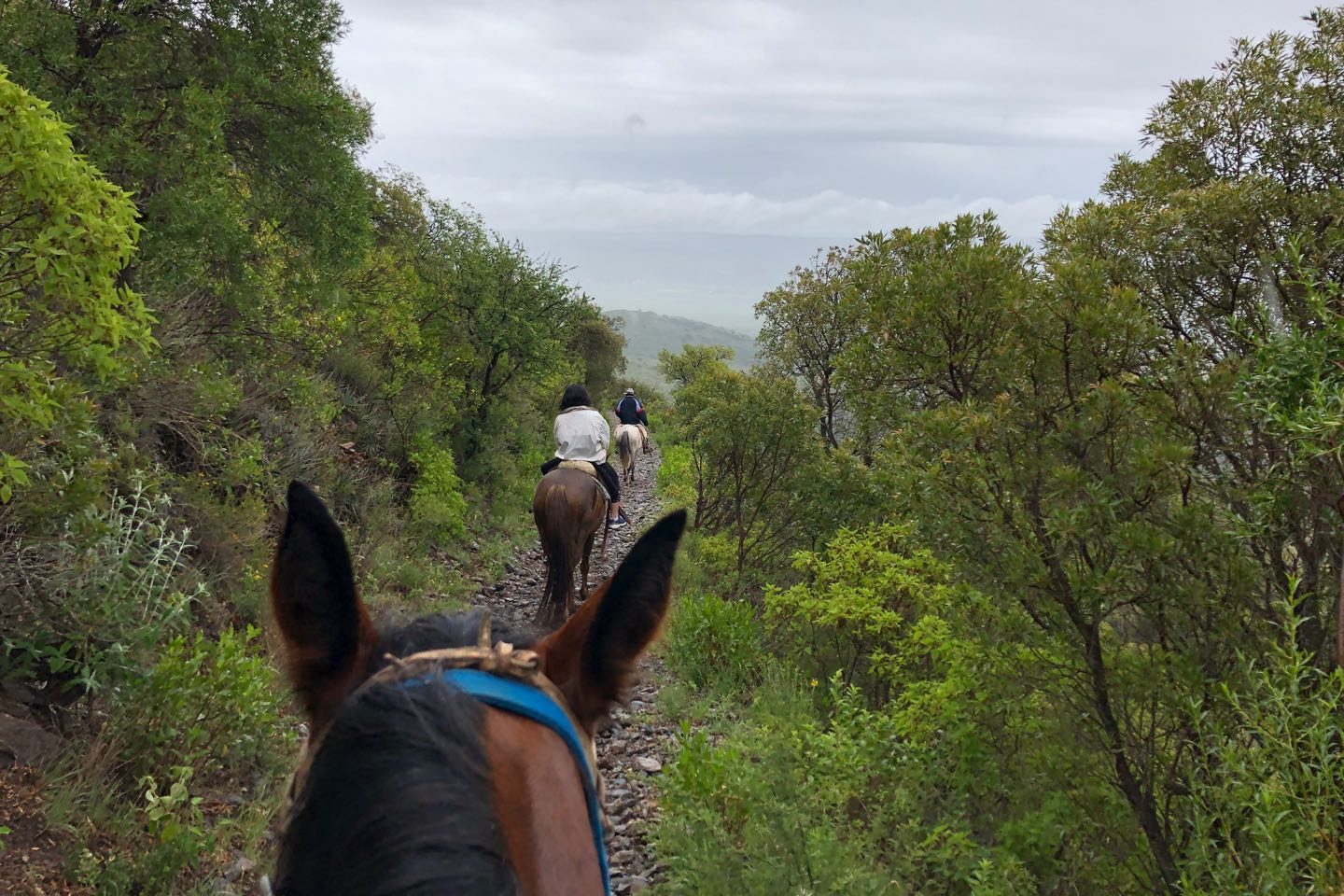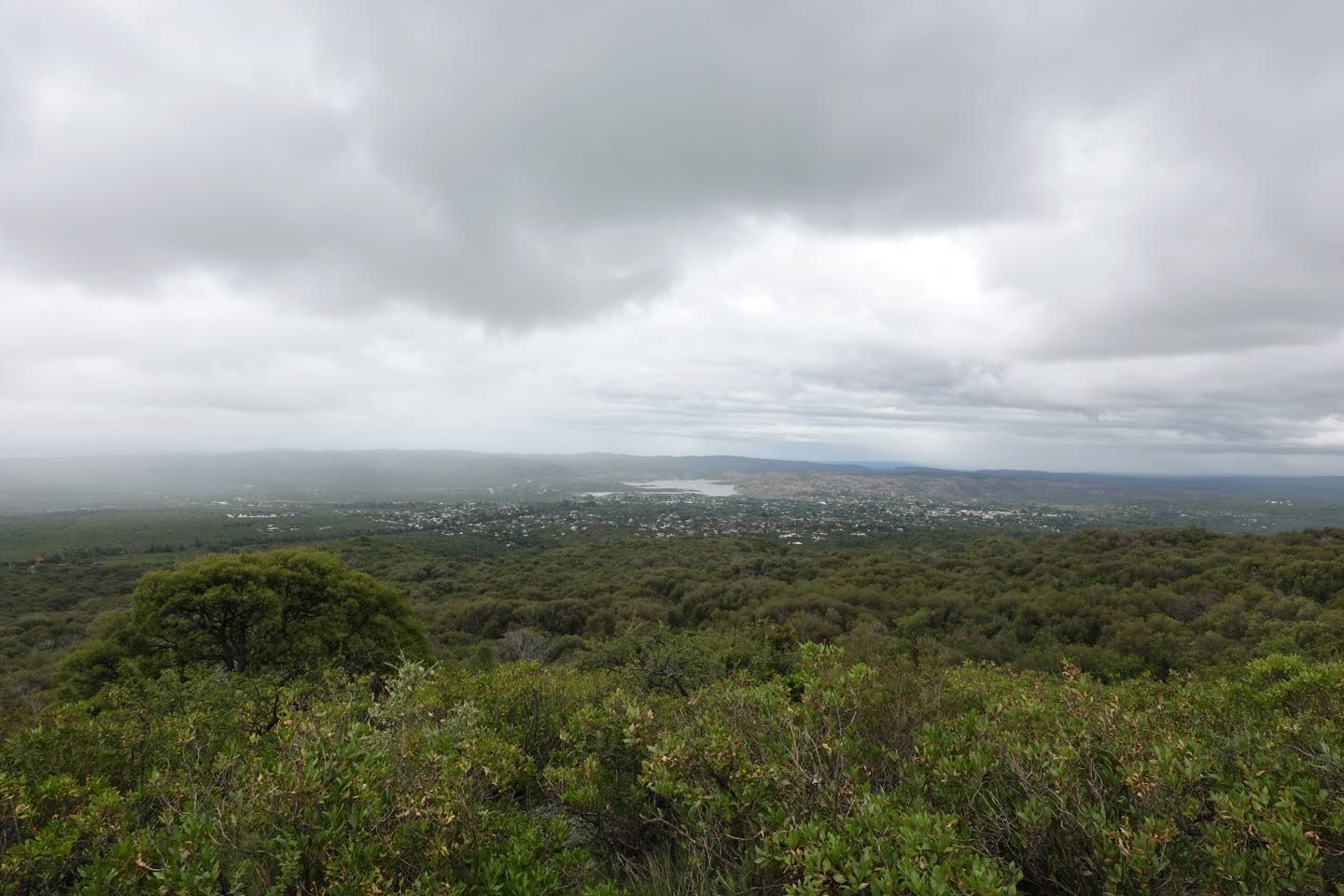 Los Terrones
Los Terrones is a private natural reserve, one of the main attractions in Capilla del Monte. Wide landscapes, funny rocks and some history. This is a must see place in Capilla. Once you get to the place you will do a short hike, not very difficult, you will be guided by someone from the reserve who will also explain a bit about the place.
Location: Google Maps.
Excursion:
Entry fee:
Guide: at will.
Duration: 4 hours (1 transportation + 1 waiting + 2 hike).
Services: restaurant.
How to get to Los Terrones: "transfer" style excursion from Capilla del Monte or in private car though a gravel road in good condition. If you have a car I recommend to visit together with Grutas de Ongamira.
Website: http://losterrones.com.ar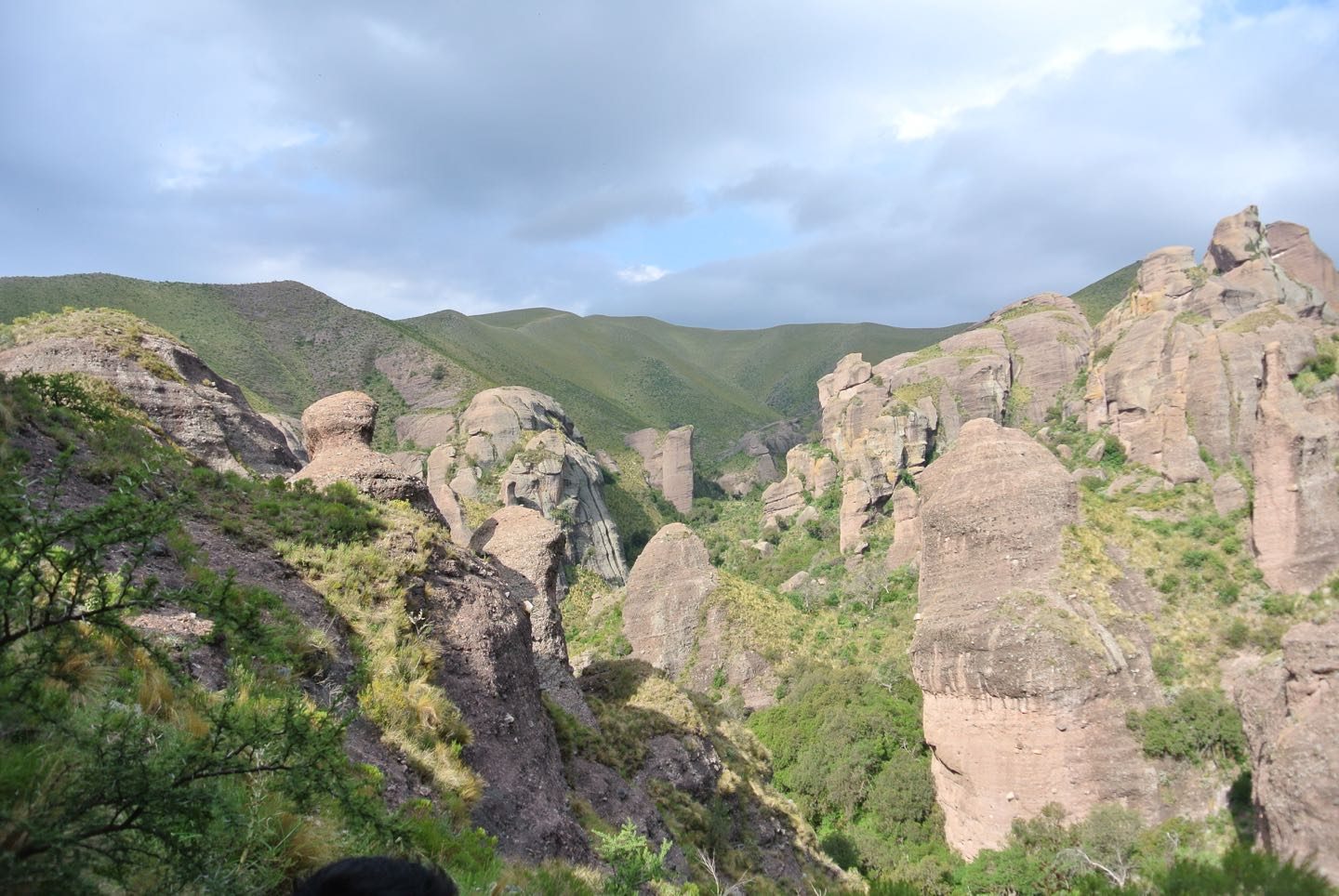 Rock formations

Los Terrones
Ongamira
Ongamira is a beautiful valley along the RP17 with a deep history.
Grutas de Ongamira (Ongamira Grottoes/Caves) is for many the most beautiful place in Capilla del Monte area and I agree. Far less visited than Los Terrones, further away but with unbeatable panoramic views of this natural area.
Once there the visit is on foot, self guided divided in two sections: first one goes up to a view point, second one goes to the Cueva del Indio (Cave of the Native) where natives used to live.
Puerta del Cielo (Heaven's Door) is a panoramic viewpoint near Grutas de Ongamira (5.6km east). Also famous for UFO sights. Included in the excursion.
Location: Grutas de Ongamira. Puerta del Cielo.
Excursion:
Entry fee: 2 USD.
Duration: 4 hour (2 transport + 2 walking around).
Services: basic kiosk with yummy "pastelitos".
How to get to Grutas de Ongamira: "transfer" style excursion from Capilla del Monte or in private car though a gravel road in good condition. If you have a car I recommend to visit together with Los Terrones.

"The saddest place in the world"
…said the famous poet Pablo Neruda about Ongamira.
Back in the 1500 this land was dwell by the comechingones, a native tribe that fought against the Spanish when they arrived in search for precious minerals. The comechingones fought and fought but they end up loosing. Their last retreat was the Cerro Charalqueta, a special mount for this people which name makes reference to the god of happiness. The natives hide there until the Spanish manage to climb it with their horses and killed big part of the tribe. The ones who survive: the old, women and children, avoid becoming slaves and sharing their knowledge by jumping off the cliff. This remains the largest mass suicide in the provinces of Argentina. The mount now it's called Cerro Colchiqui which makes reference to the god of sorrow.
Cerro Colchiqui mount has very little tourism activity but it is possible to visit it. It can either be climbed on foot or by horse. At the top you can see the famous "condor" bird very frequently.
Hike: Wikiloc GPS Track.
Where to sleep in Ongamira
Ongamira is usually visited as a day trip from Capilla del Monte or as a stop on the way to Cordoba City but there are some nice places to spend the night right here, away from towns to enjoy the calmness and relax. You must have your own vehicle.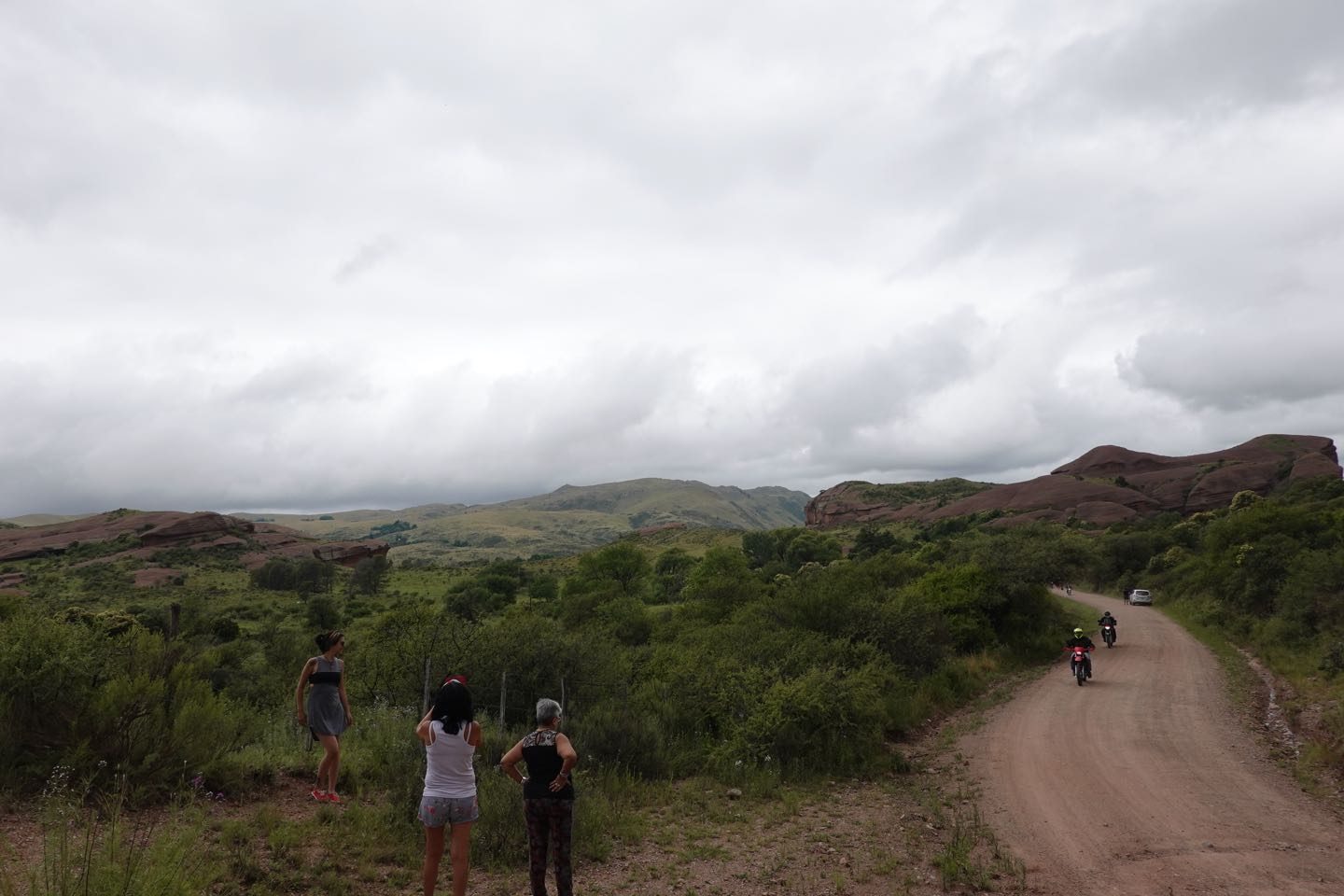 Grutas de Ongamira

Trail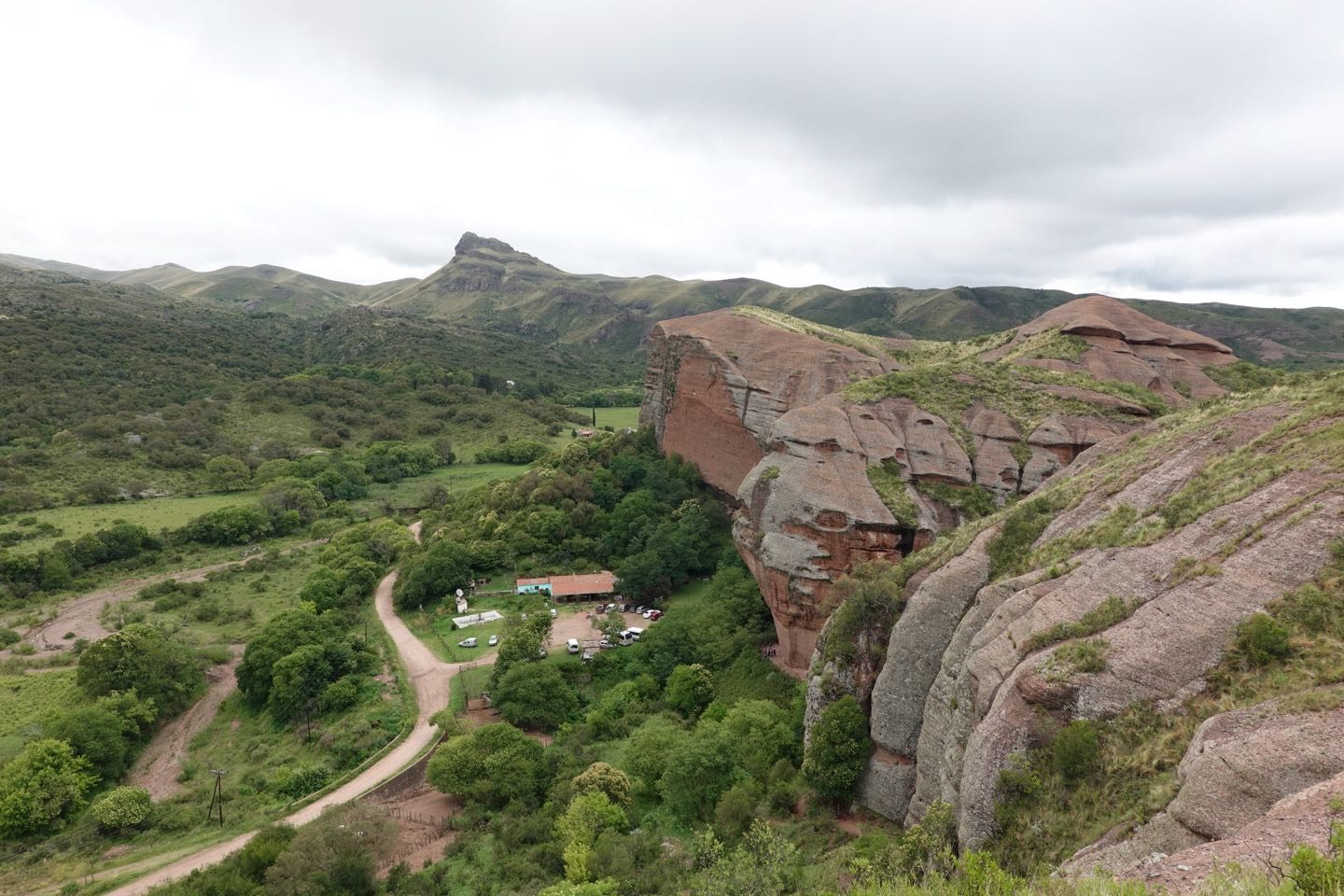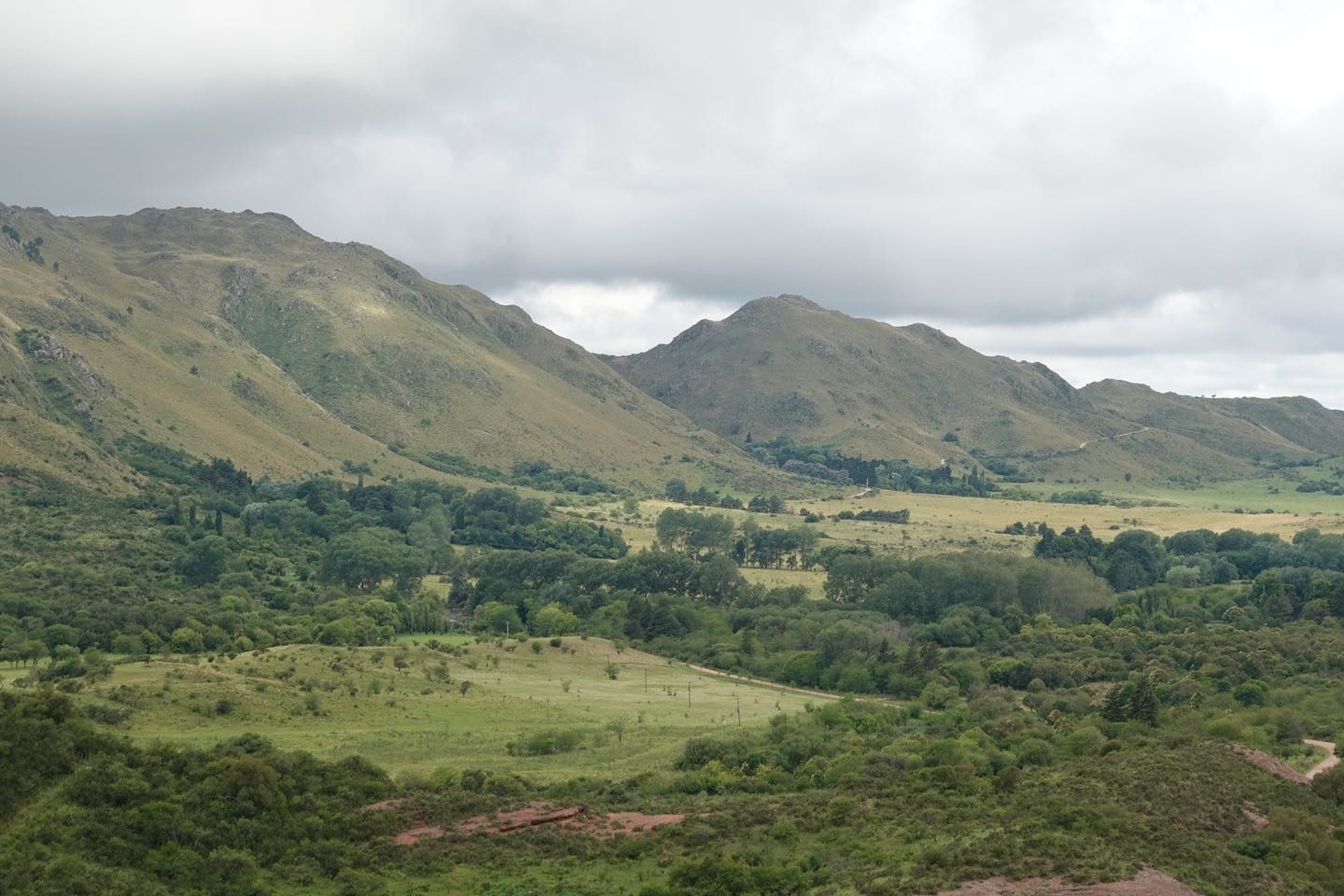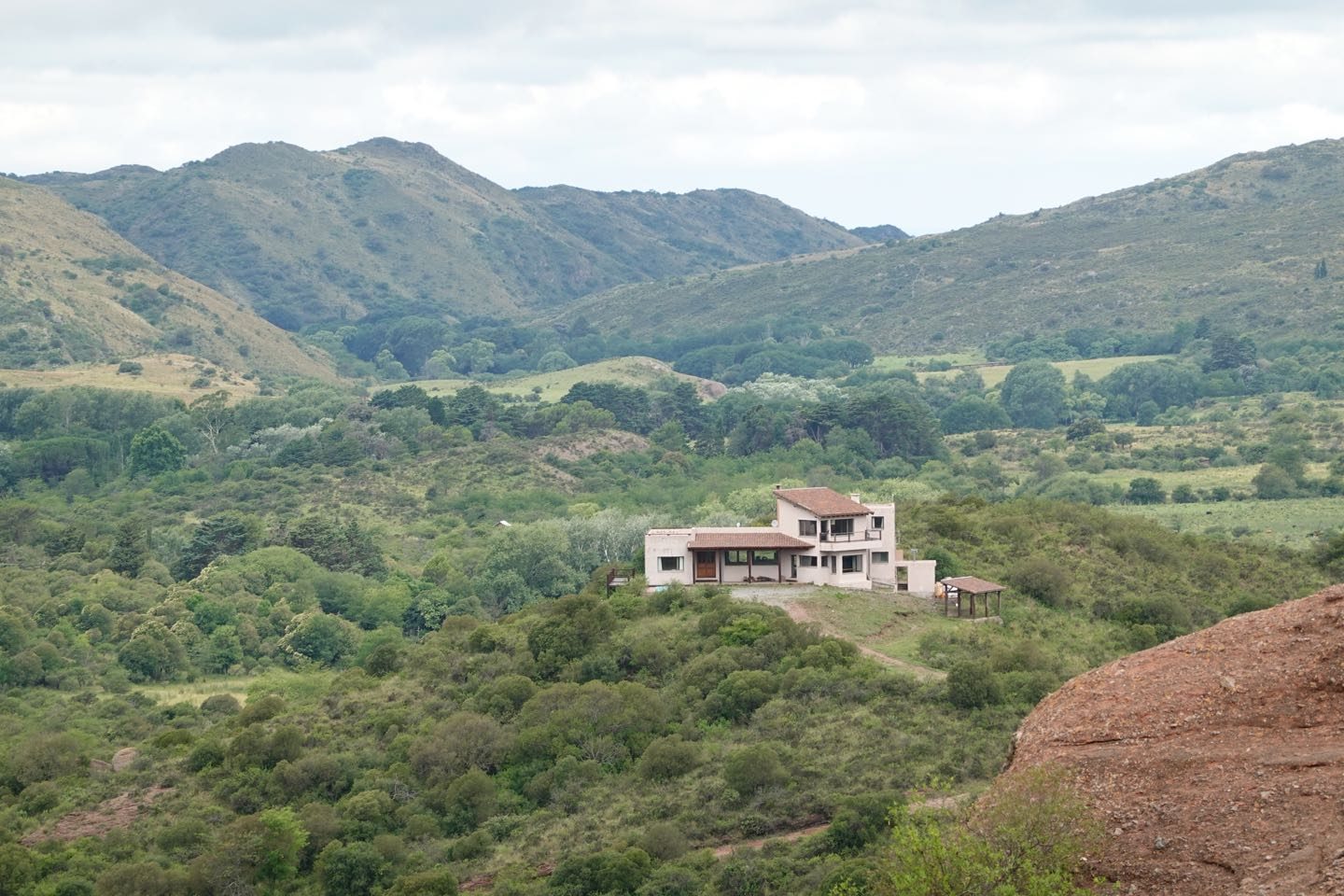 Cueva del Indio

Stream
San Marcos Sierra
San Marcos Sierra is a beautiful small town near Capilla del Monte. It has a lovely pleasant vibe specially at night around the main square where all the bars with tables on the side walk are. Totally recommended, specially for those looking for something out of the beaten path.
San Marcos along with La Cumbre are the most picturesque towns in the Punilla Valley.
One or two nights are enough to enjoy and relax in this town.
Where to sleep in San Marcos Sierra
The sleeping options are quite limited and most are hostel style but it's worth spending the night. The town is very small so you don't have to worry about location.
Argimon ($$) the best hotel as well as hostel. Midrange price for the room, cheap for the beds in dorms.
Alternative: El Altillo ($) and Hostel Jacaranda ($).
Hotel San Marcos Sierra ($$$) the hotel in town although the style is not very special and the price very high for what they offer.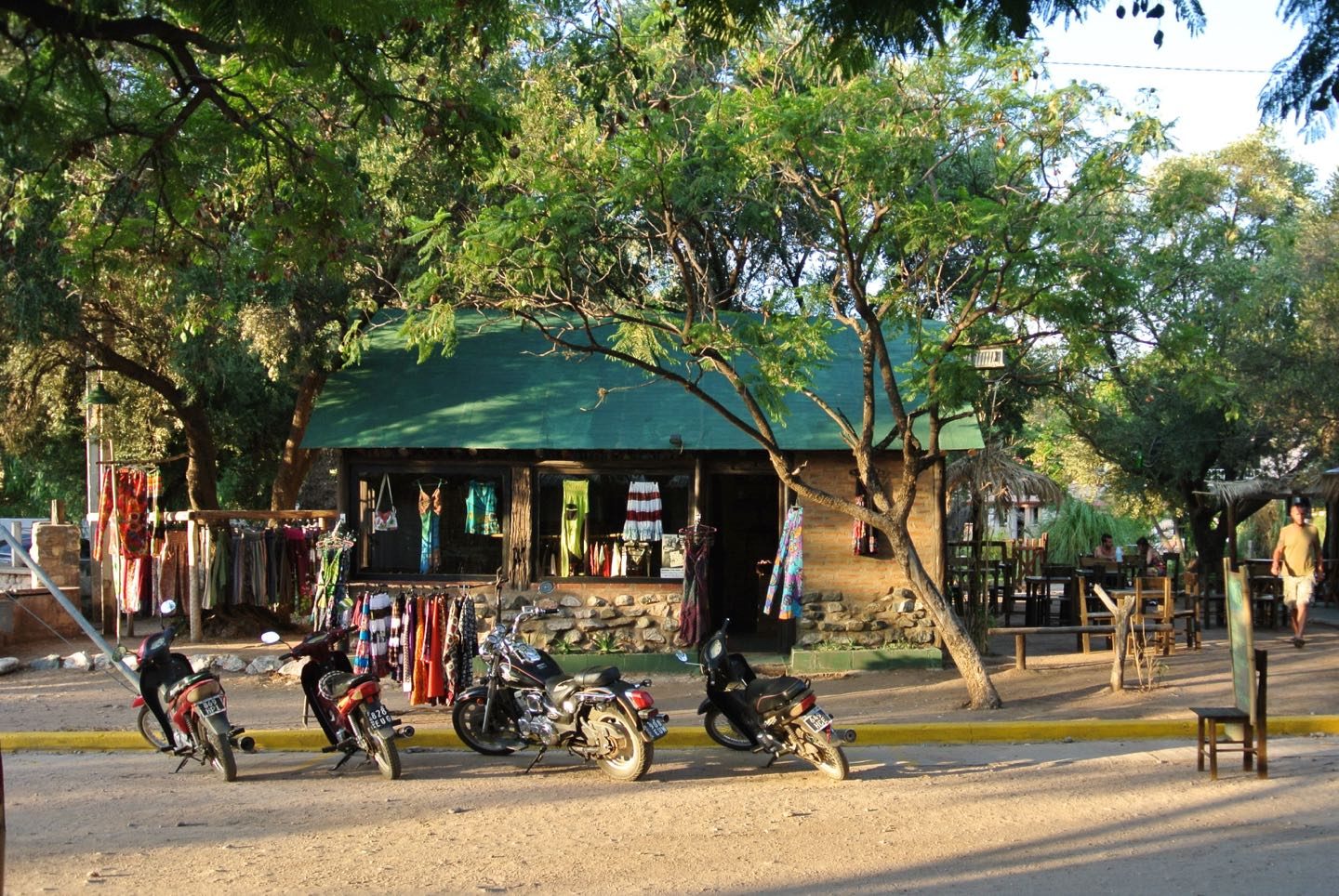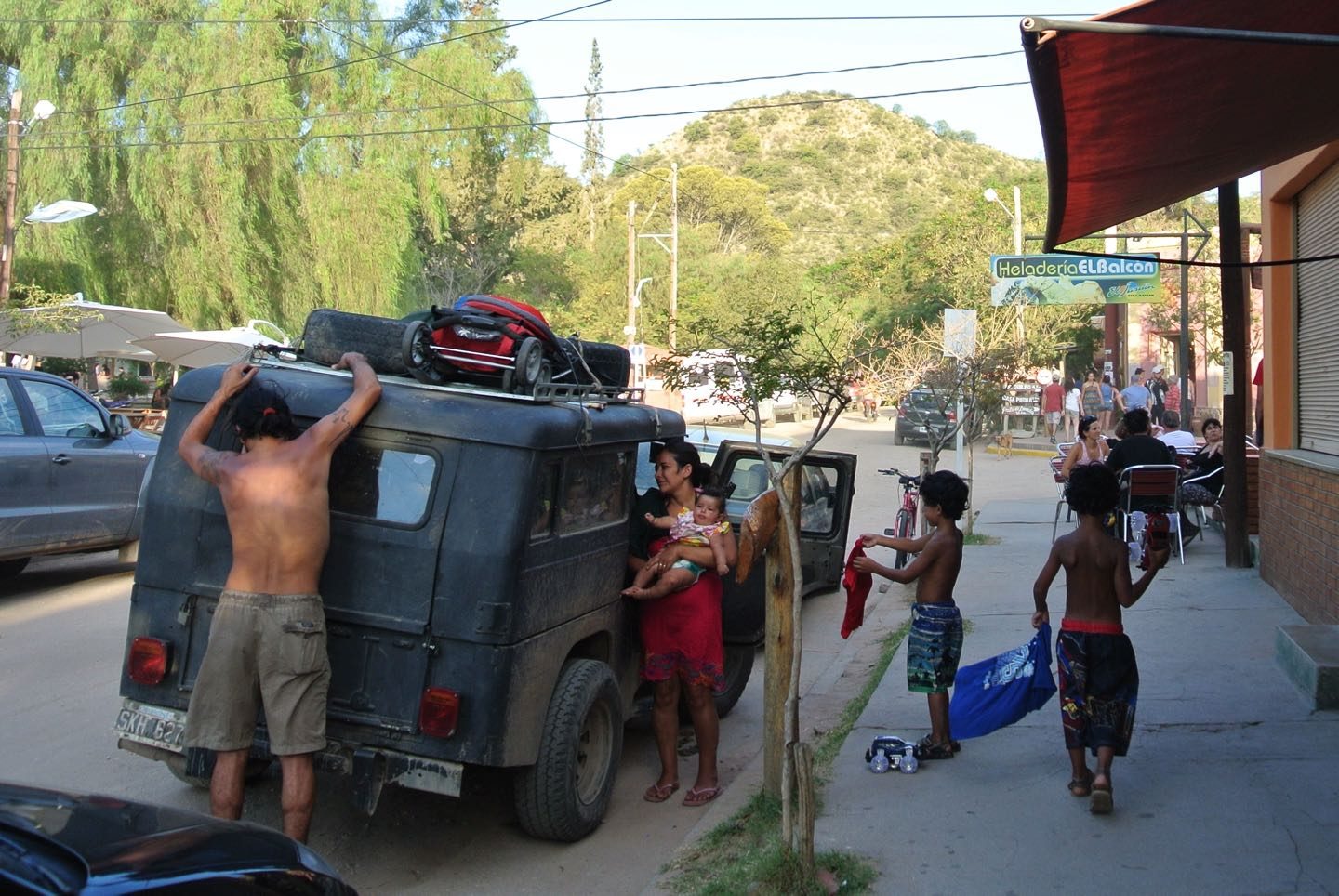 San Marcos Sierra

Nightlife
Tres Piletas Río Quilpo
The Rio Quilpo (Quilpo River) swimming area is the main attraction in San Marcos Sierra. This river is quite wide with cristal water surrounded by nature and not so crowded as the rest of the rivers in the valley. A great option for sure if you are into relaxing in the water.
Location: Google Maps.
Entry fee: free.
Parking: 5 USD.
Duration: 1~2 hours up to a full afternoon.
Services: restaurant-kiosk.
How to get here: shuttle bus, private car.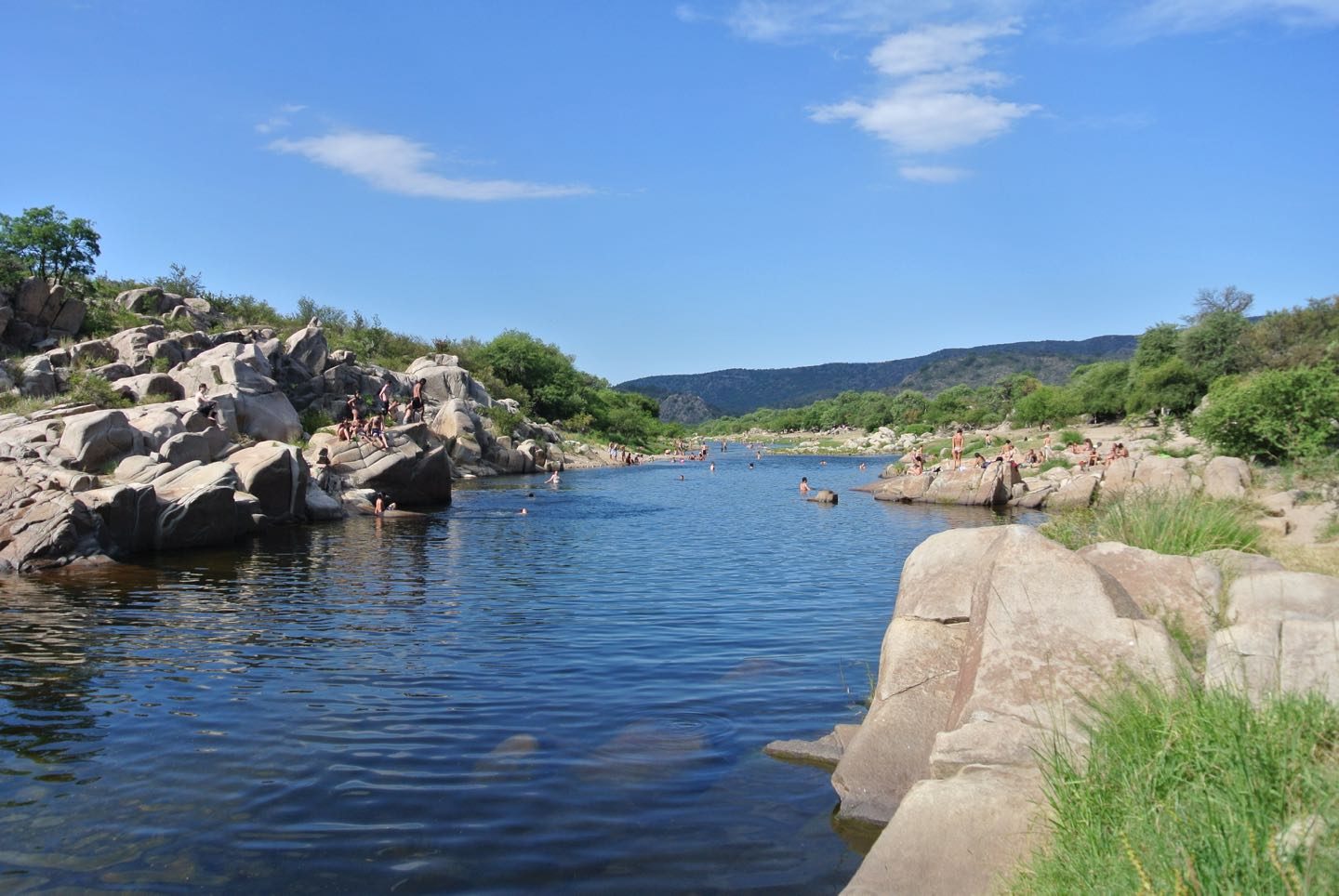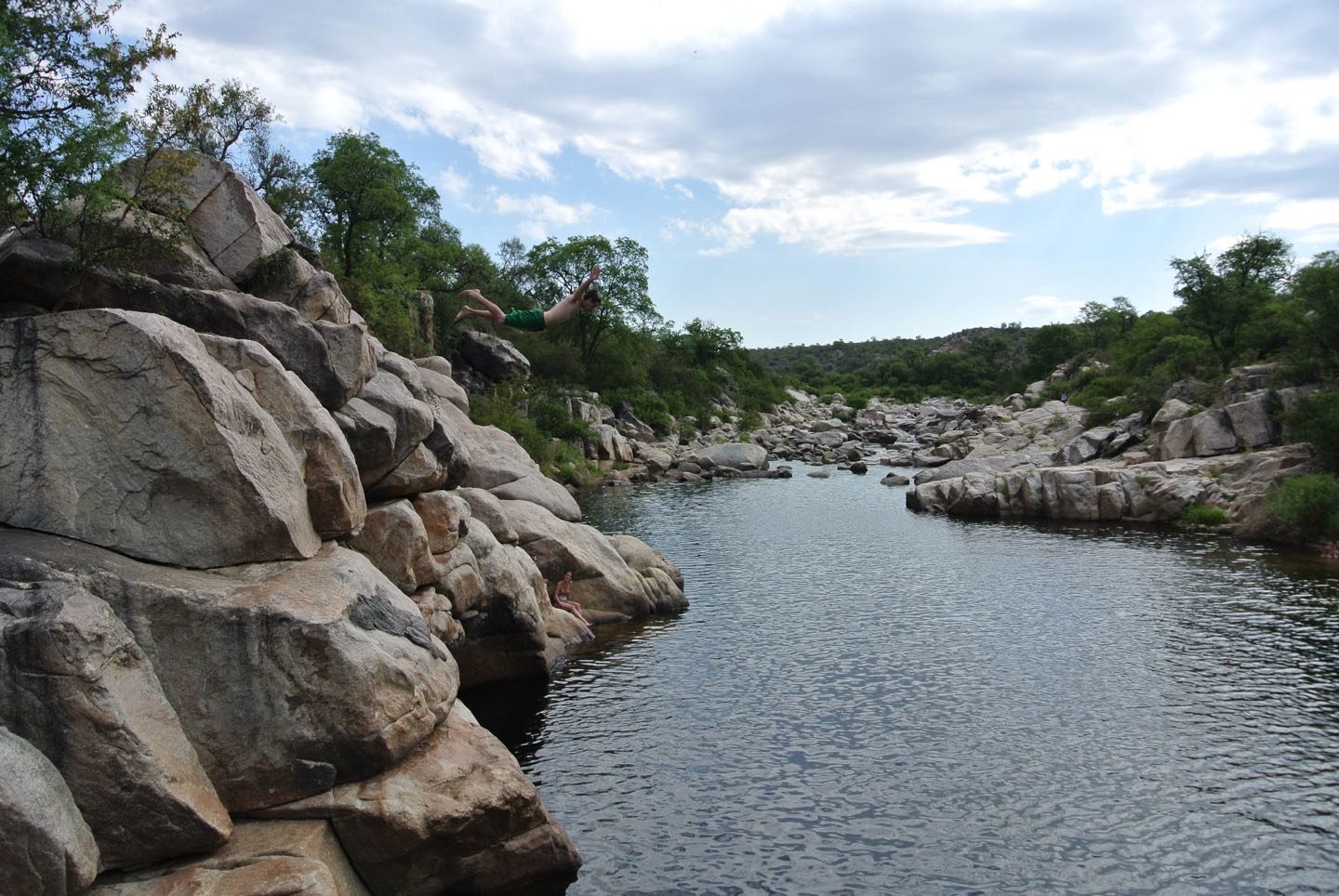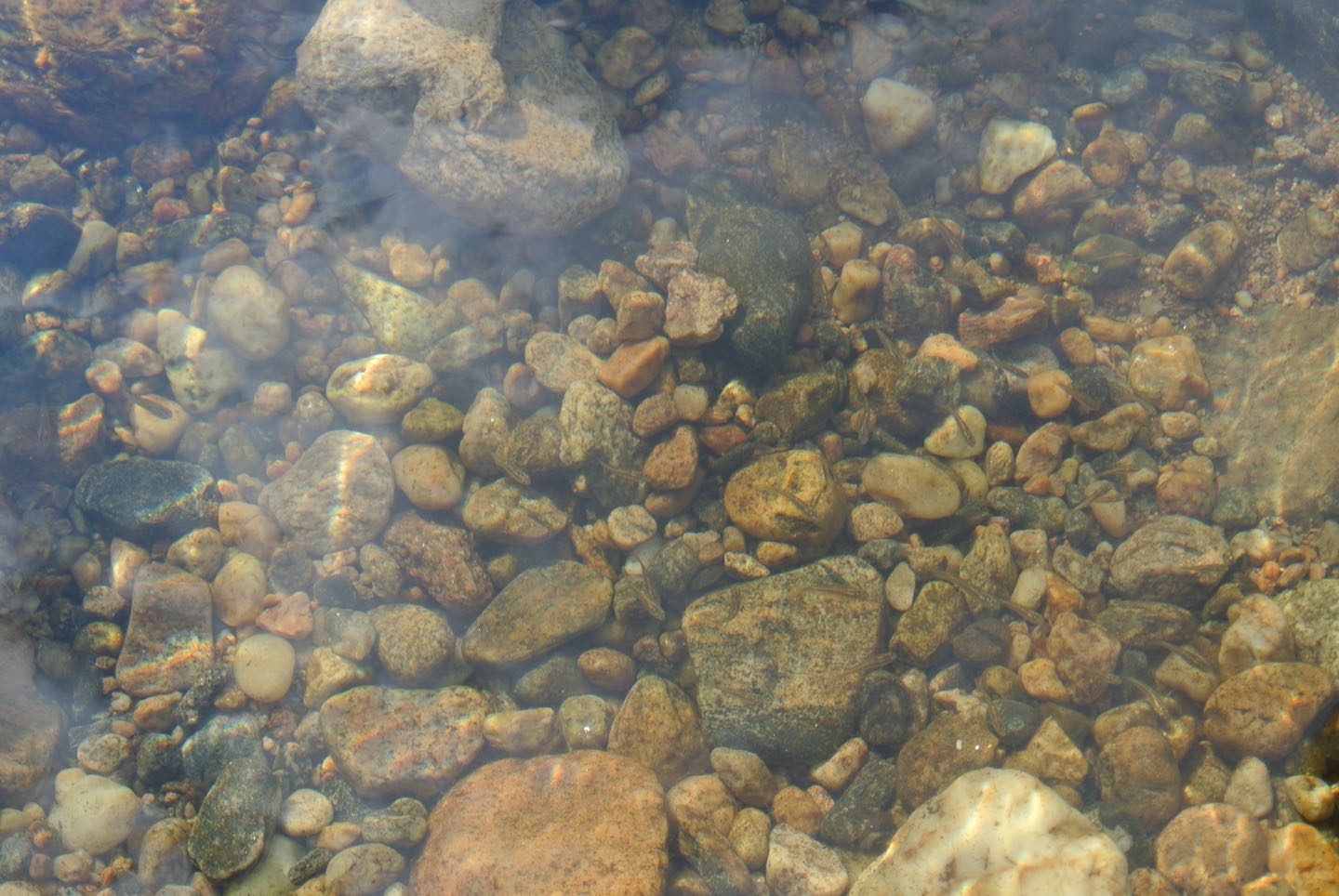 Loose cows

Lizard enjoying the sun
How to explore the Valle de Punilla
The attractions in the valley are spread all over place, mainly around some town and usually it doesn't take long to visit. Distances are not so long, if you have a vehicle it's very conveniente to make this stops on the way as you go, if that's not your case there are tons of excursions available although it requires extra time and half the attractions are not worth the money.
Self driving your best option is drive along the valley and makes stops on the way with the luggage in the trunk then keep going. Sleeping only in two or three towns.
The alternative is to pick a town in the middle of the valley to use as base (La Cumbre would be my choice) from there go on day trips to the rest of the valley.
On the bus I would recommend going straight to Capilla del Monte, from there hire the excursions which go to basically any attractions in the valley.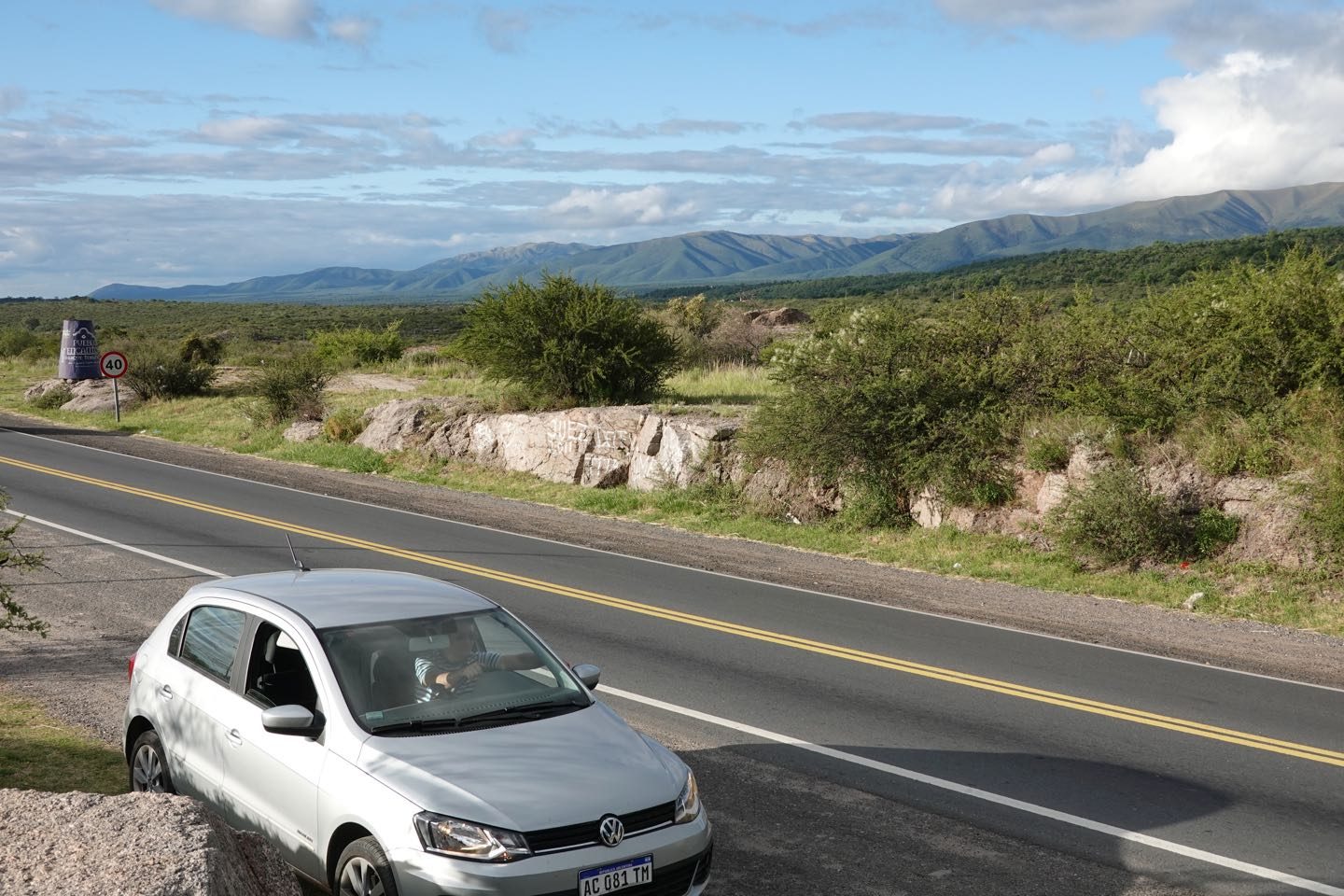 How to get to the Valle de Punilla
The most common way to get here are:
from Cordoba City and back
or keep traveling to the northwest (Catamarca, Salta, Jujuy)
or keep traveling to Mendoza (start in Capilla, finish in Carlos Paz)
Access for vehicles
Road access for those planning to self drive and get the most out of the views. The most important access to the valley are:
From Cordoba City: highway then RP73. Easy but not pretty.
Camino de las 100 Curvas: leaving Carlos Paz (Av. Bach). Asphalt, not much extra delay but you get some great views of the lake.
Camino del Cuadrado: it connects La Falda with Río Ceballos, then Córdoba. Asphalt, nice panoramic view.
RP17: it connects Capilla del Monte with the RN9 and Jesus María. It pass through Los Terrones and Grutas de Ongamira. Gravel.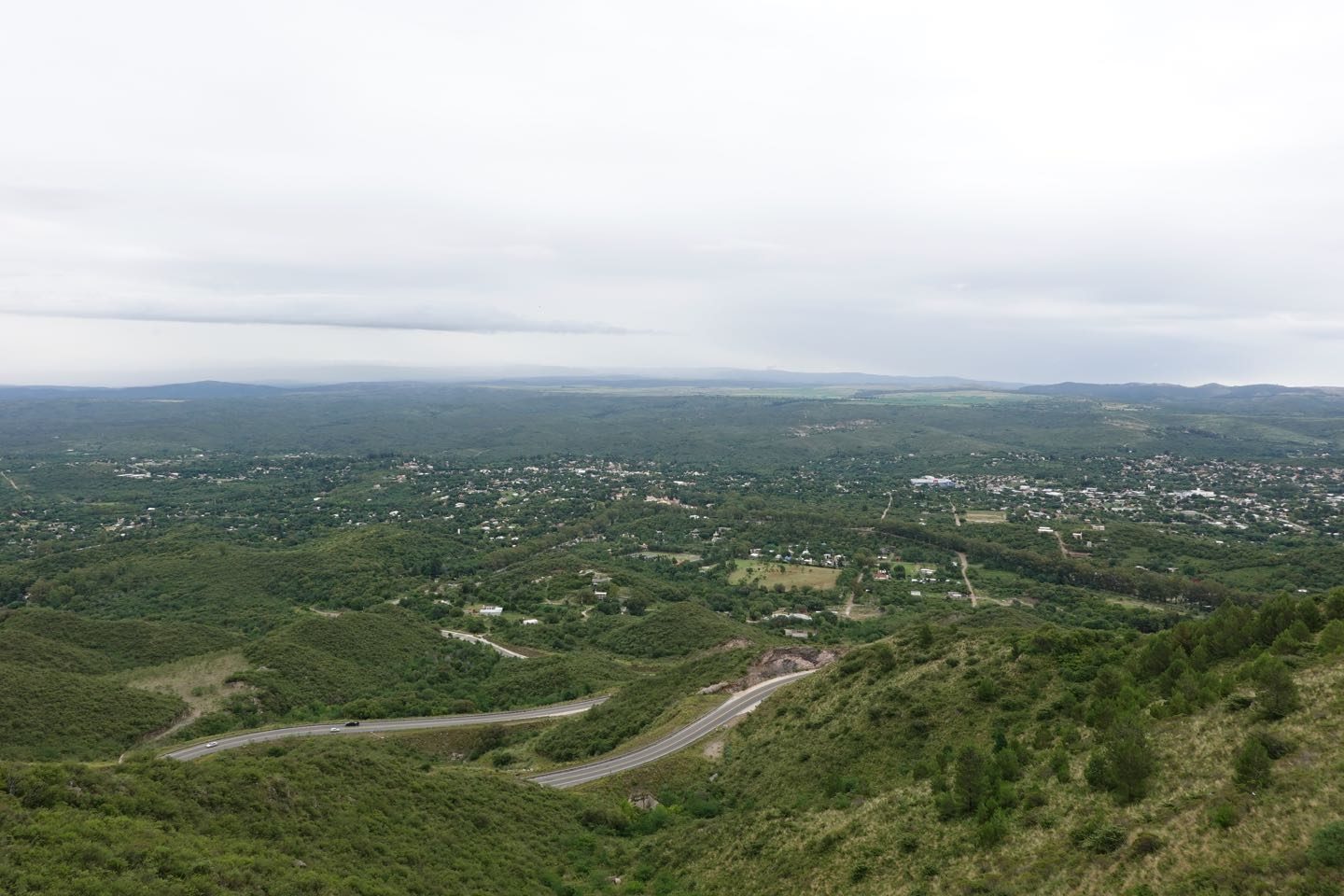 Itineraries
Car trip:
DAY 1
Carlos Paz (short stop or one night)
-Camino de las 100 Curvas
-Cerro Pan de Azúcar (stop on the way, sunset)
Night in La Falda or La Cumbre
(o both)
DAY 2
–La Falda area
-Hotel Eden (morning)
-Cascada de Oláen (afternoon) or
all the way to Estancia La Candelaria (full day)
DAY 3
La Cumbre area
-Cruz Chica (morning)
-Cuchi Corral (afternoon)
DAY 4
Capilla del Monte
-¿Pueblo Encanto?
-Los Mogotes & Paso del Indio
-Dique El Cajon (sunset)
DAY 5
-Horseback riding in Agua de los Palos (early morning to avoid the heat)
-Balneario La Toma (afternoon)
DAY 6
-Cerro Uritorco Hike
opcional: Huertas Malas & Dique Los Alazanes hikes (extra days)
DAY 7
San Marcos Sierra
-Tres Piletas Río Quilpo
DAY 8
RP17
-Los Terrones
-Grutas de Ongamira
¿Night in Ongamira?
Bus trip:
DAY 1
Carlos Paz
DAYD 2
La Falda
-Hotel Eden
-Cascada de Oláen
DAY 3-7
Capilla del Monte
-Balneario La Toma (afternoon)
-Cerro Uritorco Hike
-Los Mogotes & Paso del Indio
-Dique El Cajon (sunset)
-¿Pueblo Encanto?
-Los Terrones
-Grutas de Ongamira
opcional: Huertas Malas & Dique Los Alazanes hikes (extra days)
DAY 8-9
San Marcos Sierra
-Tres Piletas Río Quilpo