Casablanca or just Casa is not a place you want to visit if you can avoid it. It is not particularly pretty and has nothing that can be call a must-see. It is just the economic center of the country. Many travelers end up here because of the flights but if you have the chance to flight straight to Marrakech I would recommend it. People spending 24 hours here can kill some time with the following attractions.
Hassan II Mosque
Hassan II Mosque is the main attraction of Casablanca.
It's the second largest mosque in Africa. It's best to come in the afternoon then go to the Sky 28 (restaurant with great views) for sunset but if you don't want to spend money on it then stay at the mosque for sunset. I recommend taking taxi to get here and back.
Duration: 1 hour + 1 hour taxi
Price: free.
Location in Google Maps.
Sky 28
Sky 28 is a restaurant (pub!) with the best views of Casablanca. It could be called "the viewpoint of the Mosque". It is located on the 28th floor of the tallest building in town. It is part of the Kenzi Tower Hotel.
Food takes long time to be ready but you come here for the view more than the food so it shouldn't be a problem. They sell alcohol which is not cheap in Morocco but here it's even more expensive.
If you decide to dine here you are looking at a 40-50 USD/pp bill or you can get some light food / snacks (~10 USD) to share and some drinks. The local wine (yes, Morocco produce alcoholic drinks) cost 30 USD the bottle and will last long enough to enjoy the sunset for about 25 USD/pp total.
Whatever you chose you must get a seat next or close to the window looking at the mosque otherwise it will be a waste of money. Make a reservation.
WARNING: Same as most places in Morocco, smoking is not prohibited indoors in public places. This place is no exception.
Duration: 2-3 hours.
Price: 25 USD/pp for drinks. 50 USD/pp for dinning.
Location in Google Maps.
Downtown
Around Cathédrale Sacré Coeur there are parks, government buildings, consulates and such. Good starting point for the day, moving forwards to Mohammed V Square then keep walk on the Boulevard Mohammed V, the most important street in town.
The boulevard has a very interesting design with the central area that looks a road but its only for the tram, followed by the road for vehicles then the sidewalk which is a wide gallery to get shelter from the sun and get tons of street sellers.
The boulevard starts on the United Nations Square near the medina (old town) then goes east not much (at least the interesting part) I would say not walking much further than the roundabout. Halfway you'll find the Central Market which might be very interesting for some, not so much for others but without a doubt very local.
Duration: 2 hours.
Distance: ~3km.
Location: Cathédrale Sacré Coeur | Mohammed V Square | United Nations Square | Central Market | Roundabout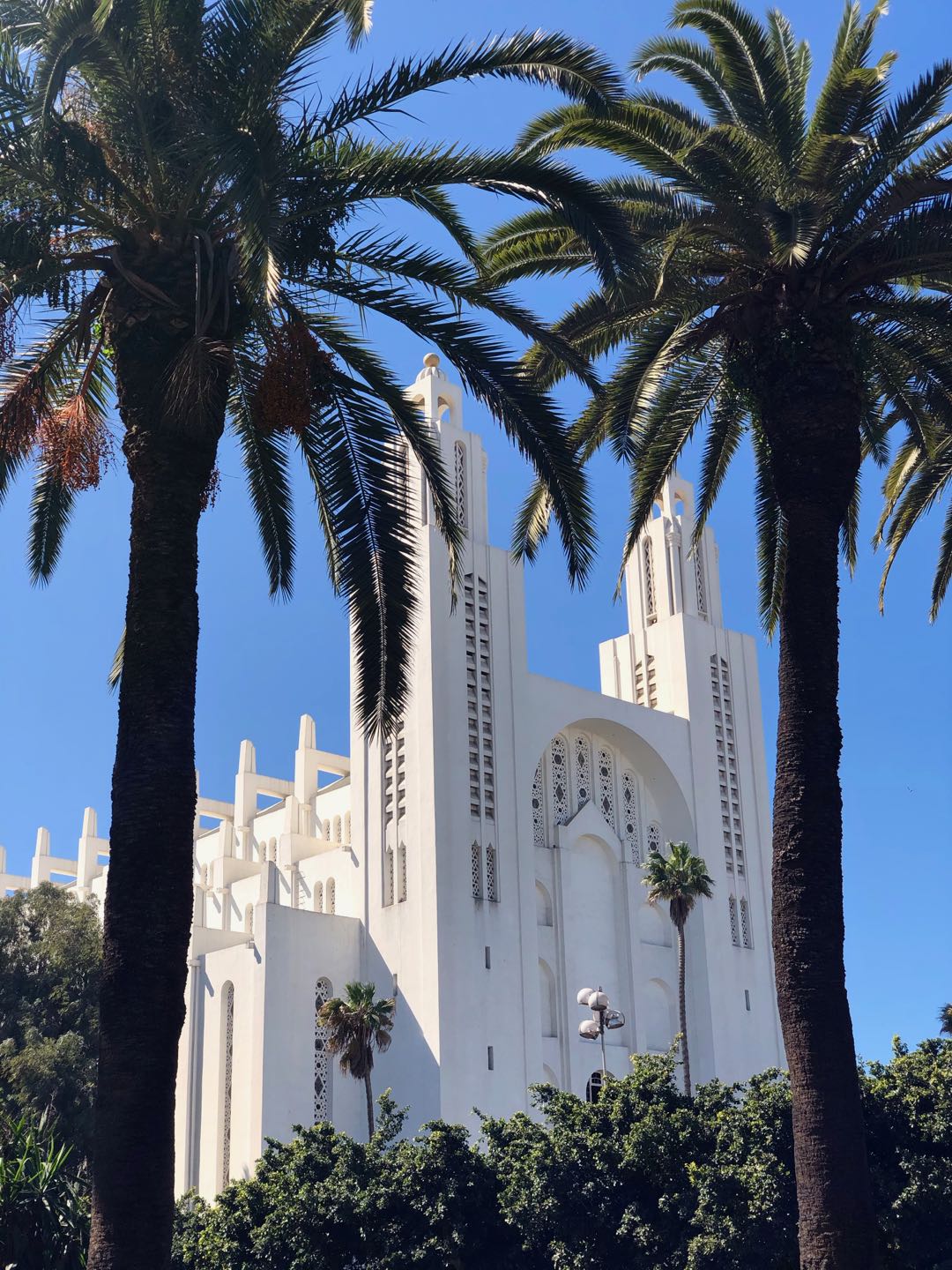 Medina of Casablanca
Medina is an old town. Almost every city in Morocco has a medina, basically a walled neighbourhood with narrow paths like mazes. In other words, a citadel.
The medina of Casablanca is pretty but nothing you won't see 10 times prettier in Marrakech or Fes. Visit this one only if you have the time to spare. Don't go too deep inside. The narrow paths can get very tricky and you might end up lost before you realize. Forget about relaying on the GPS.
Casablanca The Movie
Sad truth for the fan. The movie Casablanca was not filmed here. Not even one scene. It was all shot on a set in Hollywood.
You will find Rick's Café like on the movie but it was inspired from the movie, not the other way around.
The city from the movie was inspired by the city Tangier on the north of the country.
Where to sleep in Casablanca
Budget | Odyssee Center Hotel | Steps away from CTM bus station.
Luxury | Kenzi Tower | Excellent views of the city and the most iconic view of the mosque. Sky 28 is located on this building.
Hyatt Regency | Le Casablanca Hotel
Splurge | Four Seasons
WARNING: Same as most places in Morocco, smoking is not prohibited indoors in public places. If this is a problem you should confirm with the hotel what's their policy on public areas like the restaurant or reception.
Transportation
Flights | The easiest access to Morocco is through Casablanca flights. Some tour agencies arrange tours around the country straight from this airport without even visiting the city.
Airport Taxi | A private taxi from the airport to the hotel cost 20-25 USD fix rate. Hotels usually ask 35 USD for this services. There is a train service to town but it's expensive.
Buses | Most travelers cannot buy the bus tickets online therefore they need to get to the bus station in person (preferably one day before the intended travel date). Taking taxis here is not as easy and quick as you would expect either so I recommend stay nearby the CTM bus station or make sure to secure the ticket as soon as possible.
Even if you cannot buy the ticket online you can still use the company's website (http://www.ctm.ma) to check the schedule for the buses.
Casablanca Far (location) is the one in downtown. Recommended.
Casablanca Maarif (location) is closer to the Kenzi Tower Hotel / Sky 28.
Trains | There are some trains said to be the best way to move around but the route quite limited connecting the major tourist attractions.
Taxi | Save plenty of time to get a taxi and get to your destination on time. Many drivers will stop but refuse take you because they are heading a different direction. Heavy traffic is common as well as taxi drivers picking up other passengers in the middle of your ride and detour to drop them off first.
Hotels usually arrange transfers but the prices they ask is somewhere between 2 and 10 times more.
Most hotels to CTM bus station should cost 2-3 USD. Downtown to Hassan II Mosque 3-5 USD. Always set the price before hand.
Itinerary
Cathédrale Sacré Coeur
Mohammed V Square
United Nations Square
Boulevard Mohammed V
Central Market
Medina?
Hassan II Mosque
Sky 28 (sunset)