Marrakesh, the heart of Morocco, is the most beautiful city in the country. Filled with unique captivating culture throughout every alley, markets and breathtaking riads [traditional architecture hotels] that are so popular on Instagram, this is a mandatory stop for anyone traveling to this country or those wanting a weekend getaway from Europe.
Medina & Souks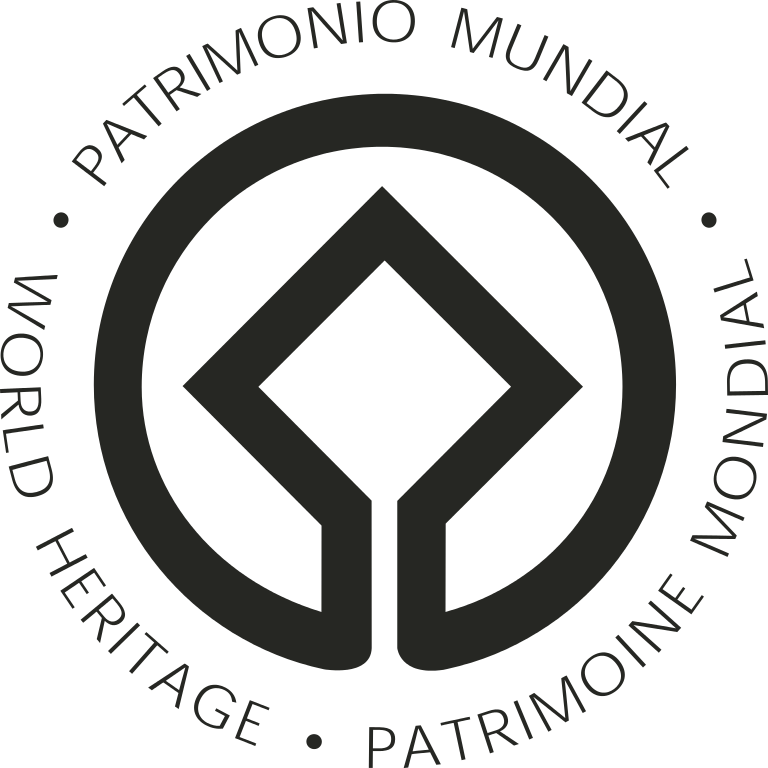 World Heritage by UNESCO
"Founded in 1070 […] Marrakesh remained a political, economic and cultural centre for a long period. Its influence was felt throughout the western Muslim world, from North Africa to Andalusia, Spain."
The medina of Marrakesh is the most beautiful in the country, more so than its competitor from Fez. However, it is not as authentic as it is more touristic with many more shops exclusively for travelers.
Marrakesh consist of a series of tinny streets and narrow alleys where sometimes not even the merciless sun can reach, as well as GPS signal… The center of the medina is a large square / market [Jemaa el-Fna] to which most of the streets head.
The souks [markets] are sections of the streets and alleys where every piece of construction is a shop displaying its beautiful products, from the impressive lamps to the perfect mountains of spices, everything you might imagine. If you are overwhelmed, start from Souk Semmarine [map].
The best way to explore the souks is simply to walk, following anything that catch your eye. Don't worry about losing your tracks. Once you actually get completely lost just follow any bigger street then 10 minutes later you will have reached a mayor open street where you can get GPS signal.
Le Jardin Secret [map] is a garden in the middle of the medina charging entry fees [40 MAD = 4 USD]. We didn't visit because we thought it doesn't worth it even if it was free.
Ben Youssef Madrasa [map] was an old school, the temple of education with traditional architecture dating back to the XVI century, which looks interesting.
We could not visit at the time of our trip it was under remodeling (March 2020).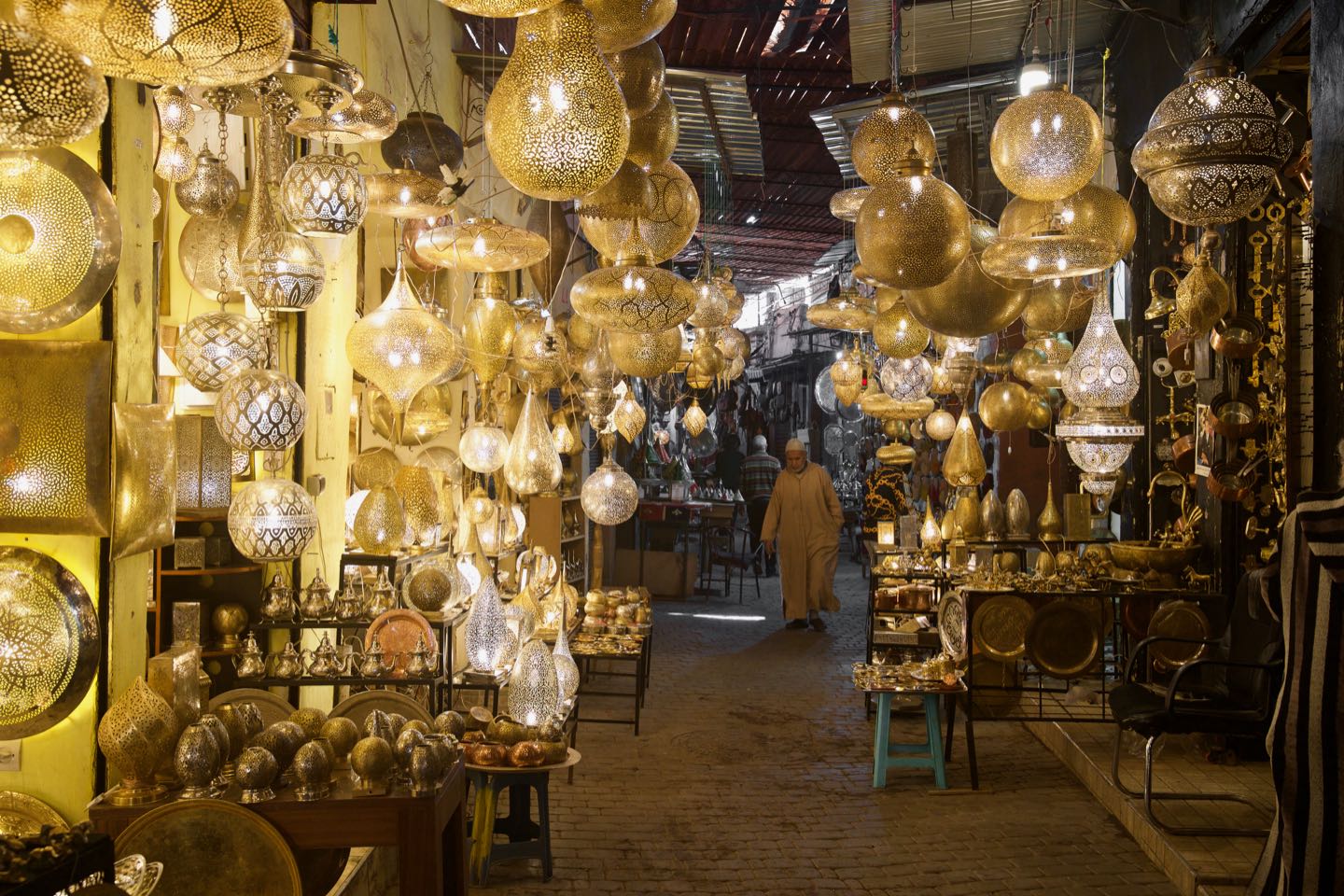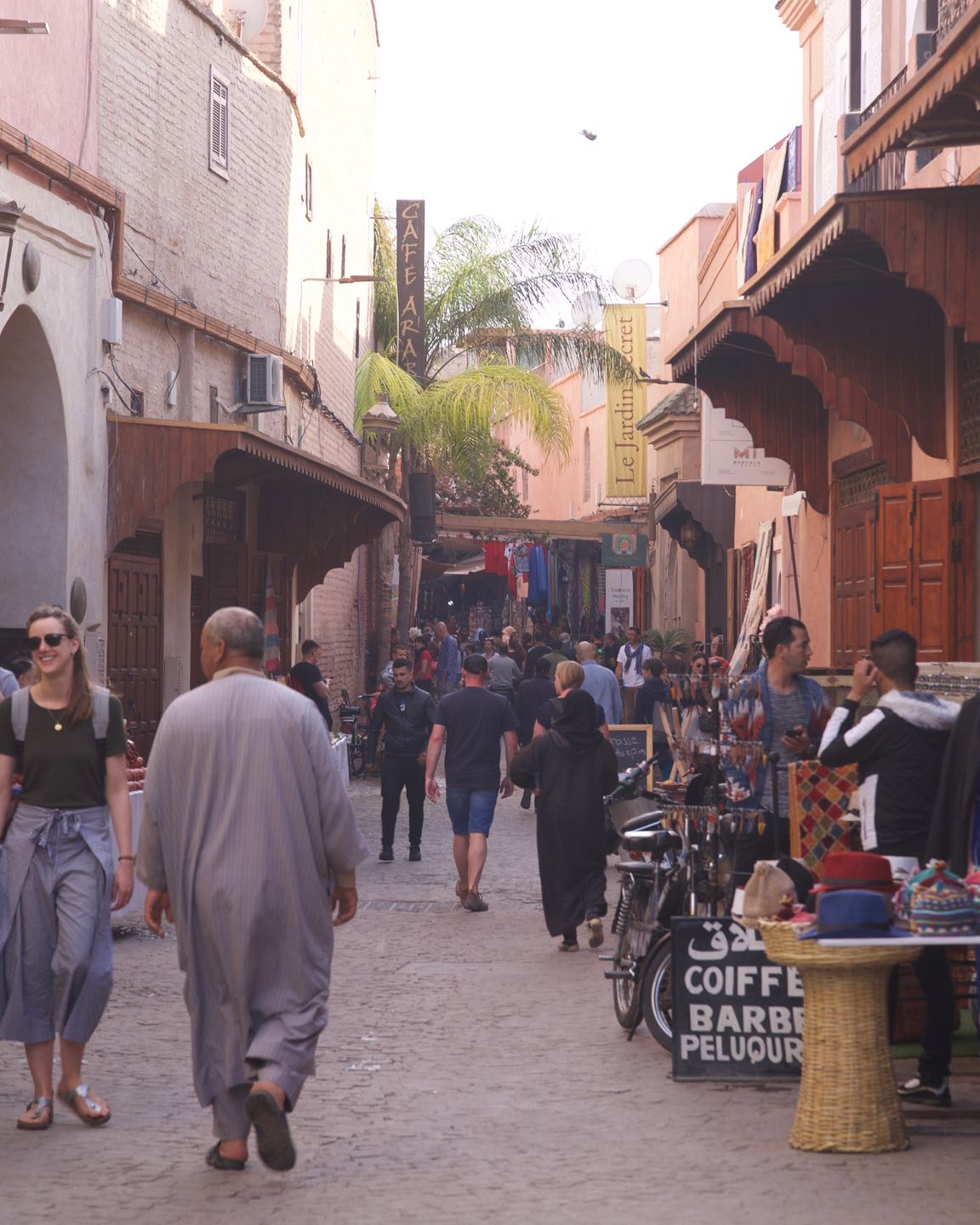 Jemaa el-Fna
Jemaa el-Fna is the main market in Marrakesh. It's located on the main square of the medina. During daytime you will find very few things, mainly juice stands (recommended), henna tattoo places [semi-permanent tattoo, disappear by itself within a couple weeks] that are very popular with tourists.
You will also find people with monkeys. They will approach you silently until you are within the monkey's reach and the monkeys will grab you and scare you to death (our case). If you don't startle like you are about to be murdered, they will try to get you to play with them and take some pictures for a fee. Warning: the monkeys are tied by chains, and when the market closes, they are locked up in tinny cages.
There is also the snake charmer with its intimidating cobra snakes. But don't be afraid, their venom or teeth have been taken out. Do pay attention to the guy with a sneak in his hands!! (not a cobra). He will approach you and encourage you to touch the sneak. If you do it, know this: before you realize what is happening, your hand touching the snake is already holding it and the rest of its body is around your shoulders. The guy is meters away next to your friends waiting for your pictures to be taken. These people should be renamed human charmer.
The market comes to life at nighttime when the sun gives people a break and lets them live another day. The square gets filled with food stands and many street performers as well as many crazy rarities such as the "dentist", people who help remove bad teeth for a tip. Just like that. In the middle of the market. How to identify them? Look for the guy with a neckless of teeth.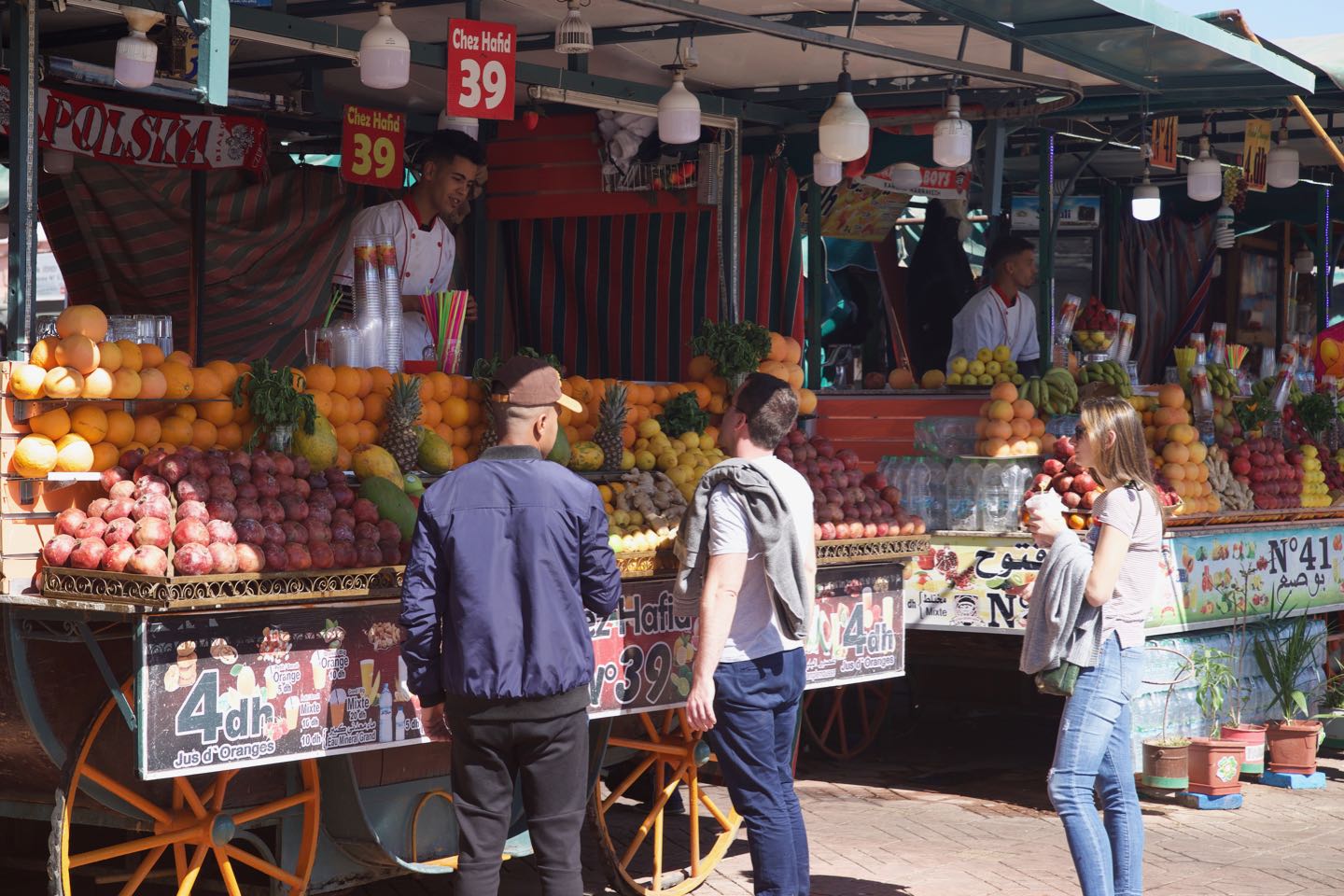 Le Grand Balcon du Café Glacier
The best panoramic views of Marrakesh. Overlooking the central market "Jemaa el-Fna"
Going one floor up, there is this balcony/coffee shop where you can get the best sunset views in town. There is a mandatory drink purchase as an entry ticket. Pay and grab a bottled drink on your way in. Done. You can also ask the waiter to bring a coffee to your table (if you manage to get one). Dining is also an option, although few people does dine in. Word around says the food is not worth it.
If you come for the sunset be ready to be standing the whole time or get here at least 2 hours before the sun goes down. I do not recommend to come here any other time of the day. If arriving earlier, you will be looking at the market that basically doesn't exist yet, just an empty square.
To sum up: consider this place a viewpoint. Not as a coffee shop.
Parc Lalla Hasna & Koutoubia
Parc Lalla Hasna is the main green park in town and pretty pleasant, just a few meters from Jemaa el-Fna market. Nothing crazily impressive but it is worth the short walk.
Koutoubia is a XII century mosque you can see from the park.
Bahia Palace
Bahia Palace is a large islamic-moroccan palace. There are 160 rooms all decorated with fine details on doors, walls and ceiling makes this a very Instagrammable place. To complete the luxury set: 8000m² [2 acres] of gardens.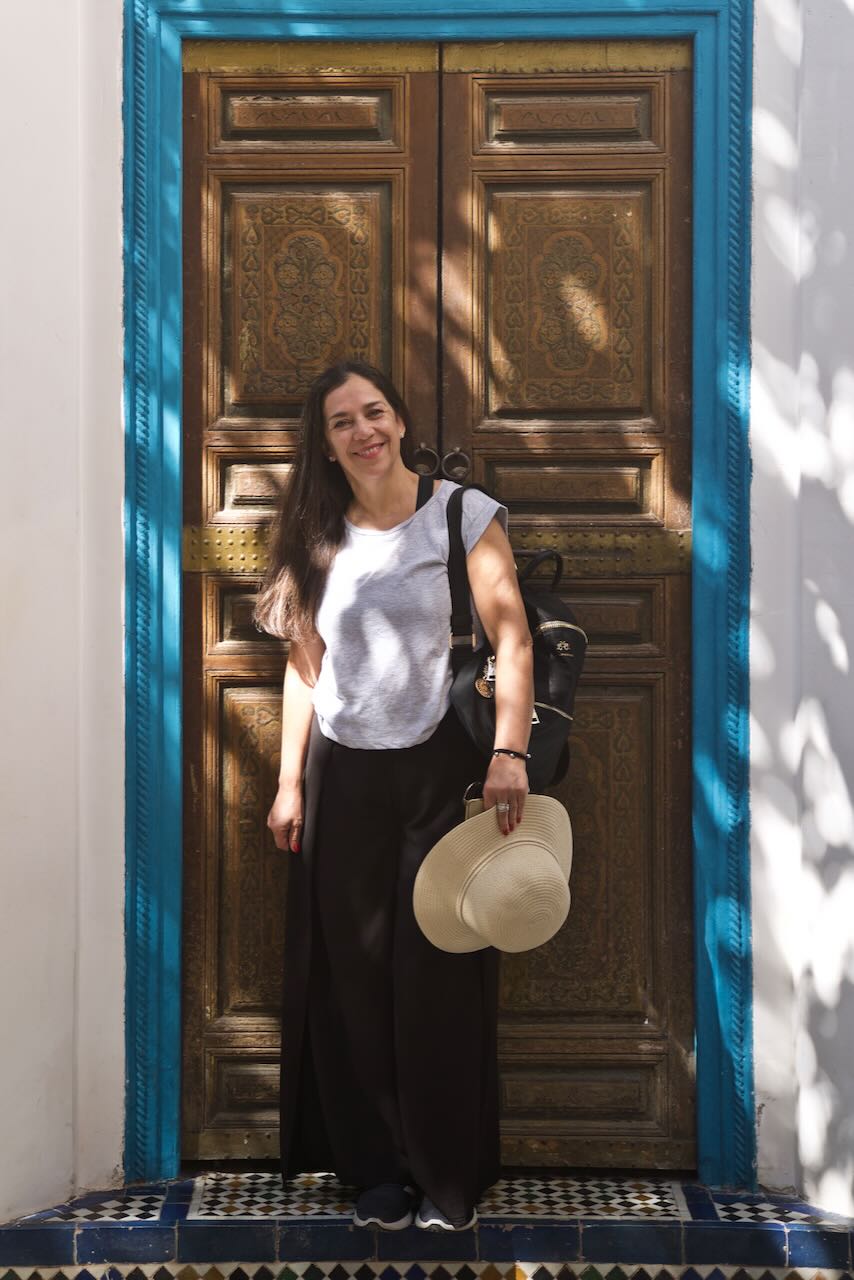 Saadien's Tombs
Saadien's Tombs is a minor attraction. The tombs and the room where they are located have fine details (same as any palace in the country). You can only look at it from the door without entering the room. The park inside the compound is very small without anything special.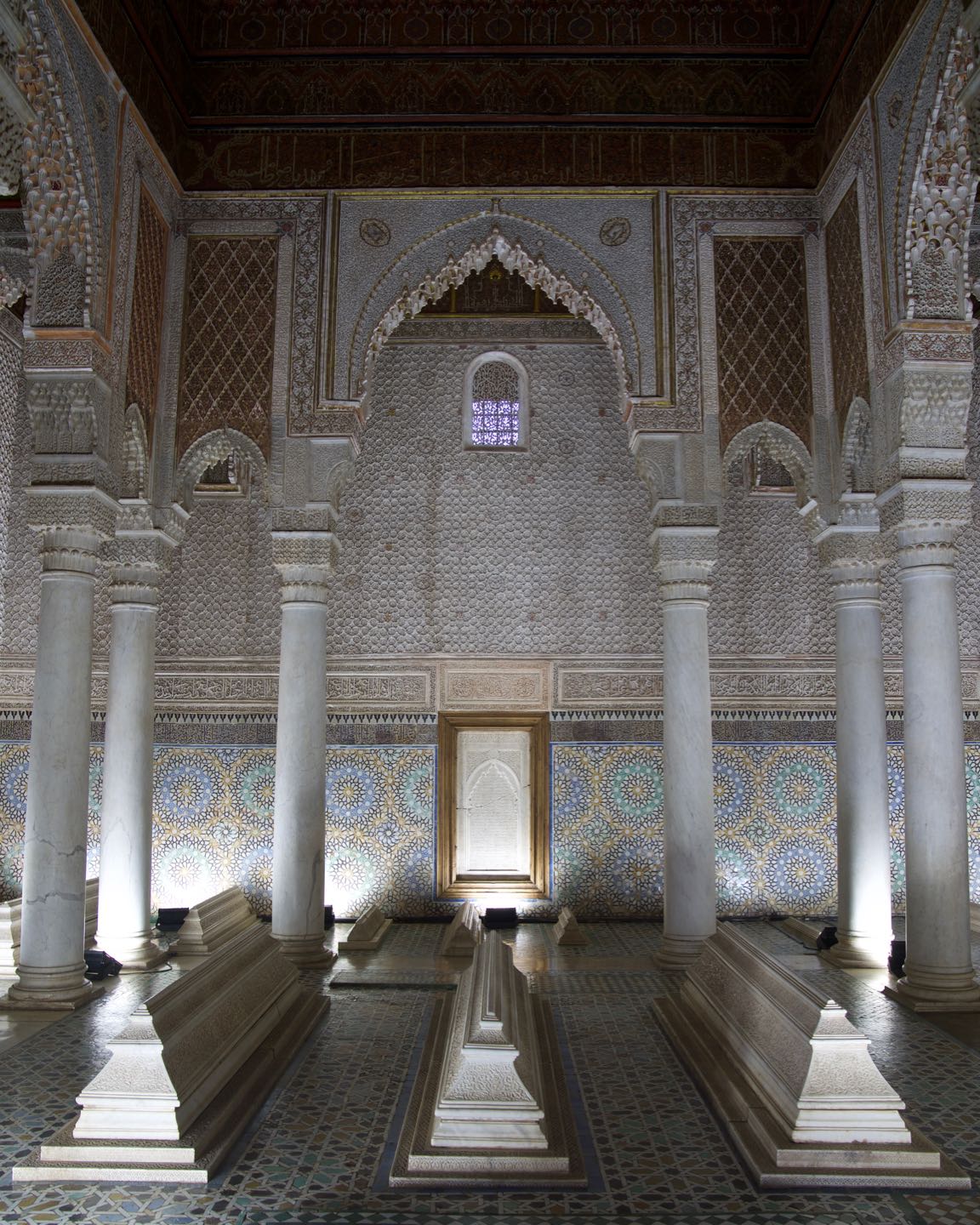 Jardin Majorelle
Musee Yves Saint Laurent
Le Musee Berbere
Jardin Majorelle aka Yves Saint Laurent Garden is a very popular botanical garden in Marrakesh although we found it not so special. Many people consider it's pretty but nothing unique nor worth the money.
The garden is next to Musee Yves Saint Laurent for those interested in seeing… a building with the YSL logo? And for the contemporary art if you sync with some exhibition.
What completes the trio of the complex is the Le Musee Berbere [Berber: ethnic people from the desert who dress very peculiar clothing.] Those going to desert camps will get a better experience with the local traditional outfits than seeing them in a museum.
We decided not to visit any of these.
You have to take a taxi to get here.
Staying at a riad
Staying at a riad [traditional house/hotel] is one of the main experiences in Morocco. Many people come here just for enjoying this beautiful architecture and cozy pools that are Instagram-famous.
A riad is a construction built around a small central courtyard which is the main source of light for all the rooms. The nice ones usually have a small but picturesque pool in this area.
Marrakesh has millions of riads. Almost every lodging is a riad. They are excellent in quality and great value for money. You can get a remarkable place for good price. If you are willing to step up without going crazy on your budget, you will get an extremely unique experience, incomparable to anywhere else.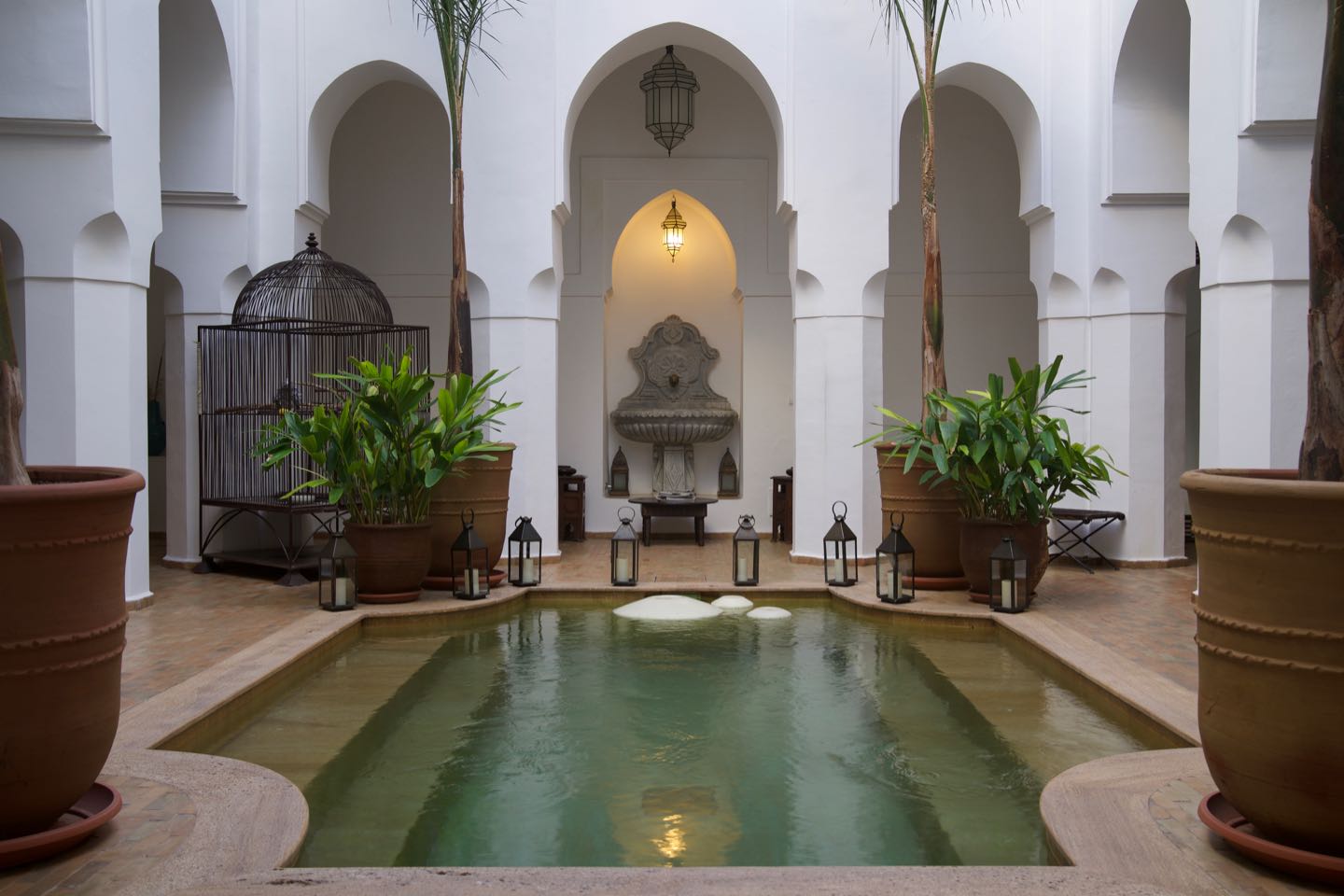 Dar Mo'Da is probably the best riad in all Morocco. A beautiful building perfectly blending the Moroccan traditional style with a modern touch.
Number 1 on Tripadvisor Travelers' Choice 2019 best B&B and Inns not only in the country but all Africa. A rating of 9.9/10 on Booking.com. And I must say, it's true to its reputation.
The riad is located in the heart of the noisy and burning medina, but as soon as you enter its doors it feels like a temple of silence and calmness with a natural cool air.
The exquisite patio and pool are a master piece and the rooftop is the most cozy one anyone could every build. It has only 5 bedroom so it will be pretty quiet and intimate. It feels like staying in a mansion instead of a hotel. The staff feels like they are friends welcoming you into their home. Lastly you can get lunchs and dinner in the dinning room or the rooftop as you wish that day.
Location ★★★★★
Facilities ★★★★★
Restaurant & Breakfast ★★★★★
Rooms ★★★★★
Staff ★★★★★
Confort ★★★★★
Value for money ★★★★★
This review is not sponsored in any way by the hotel.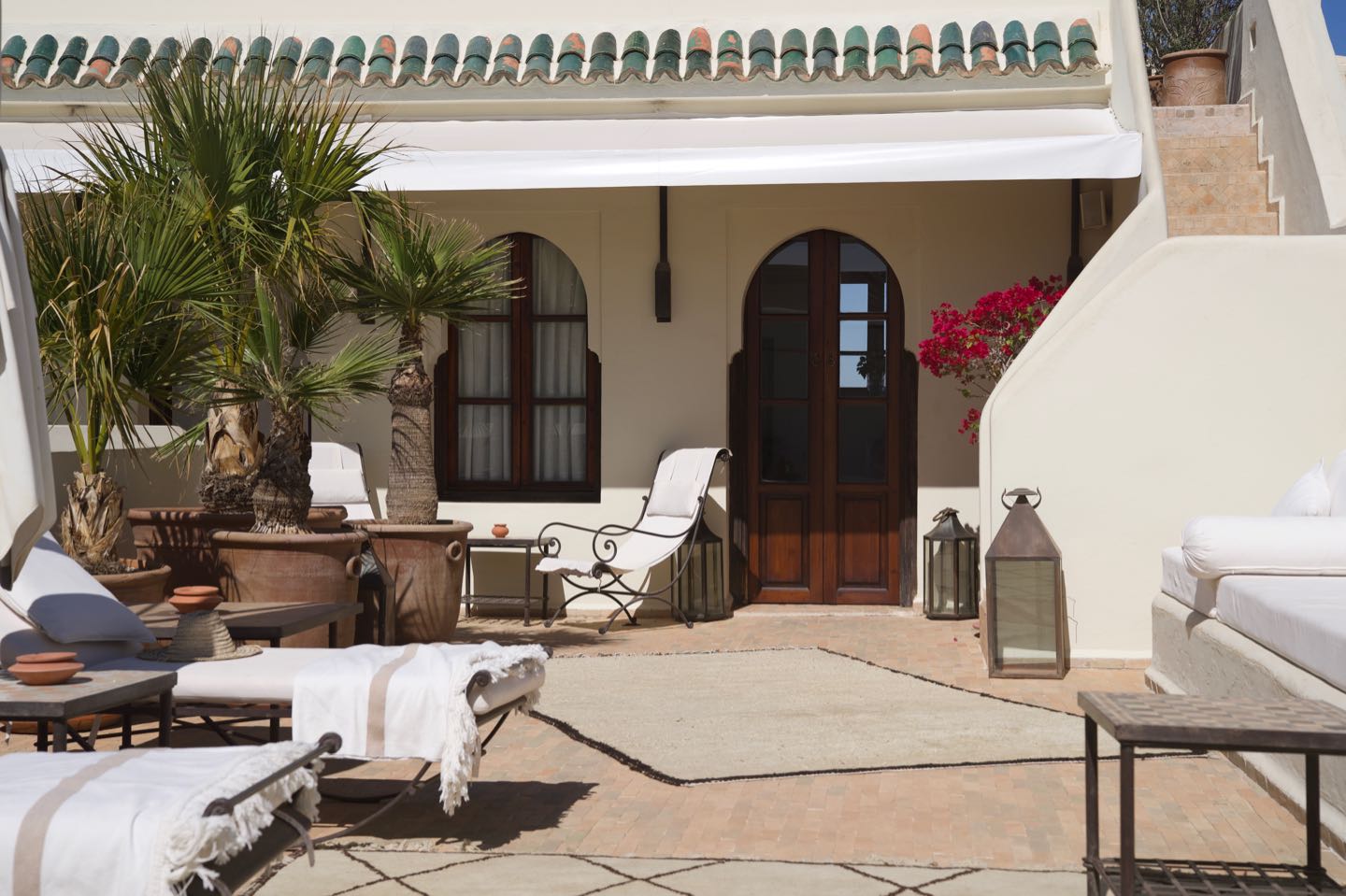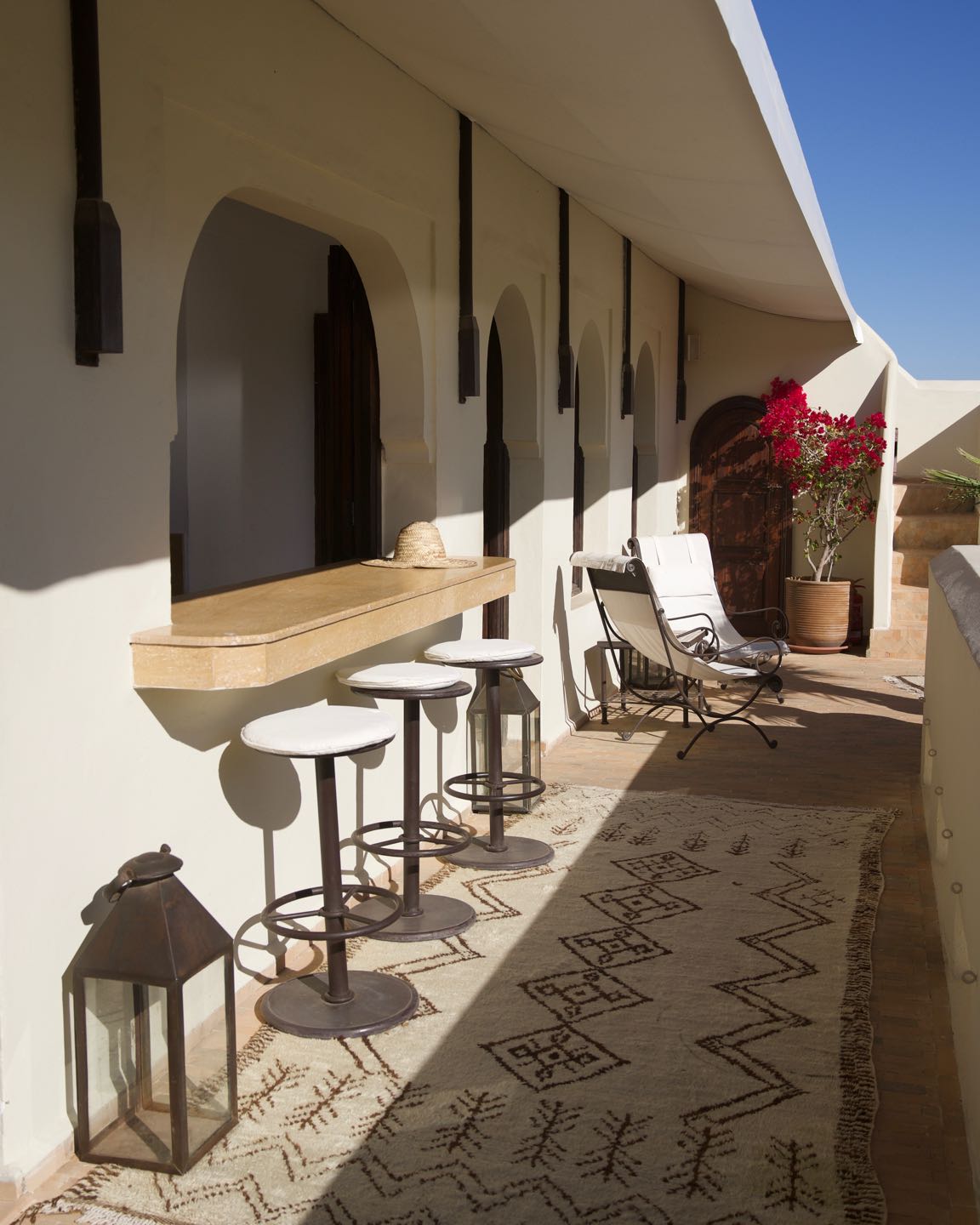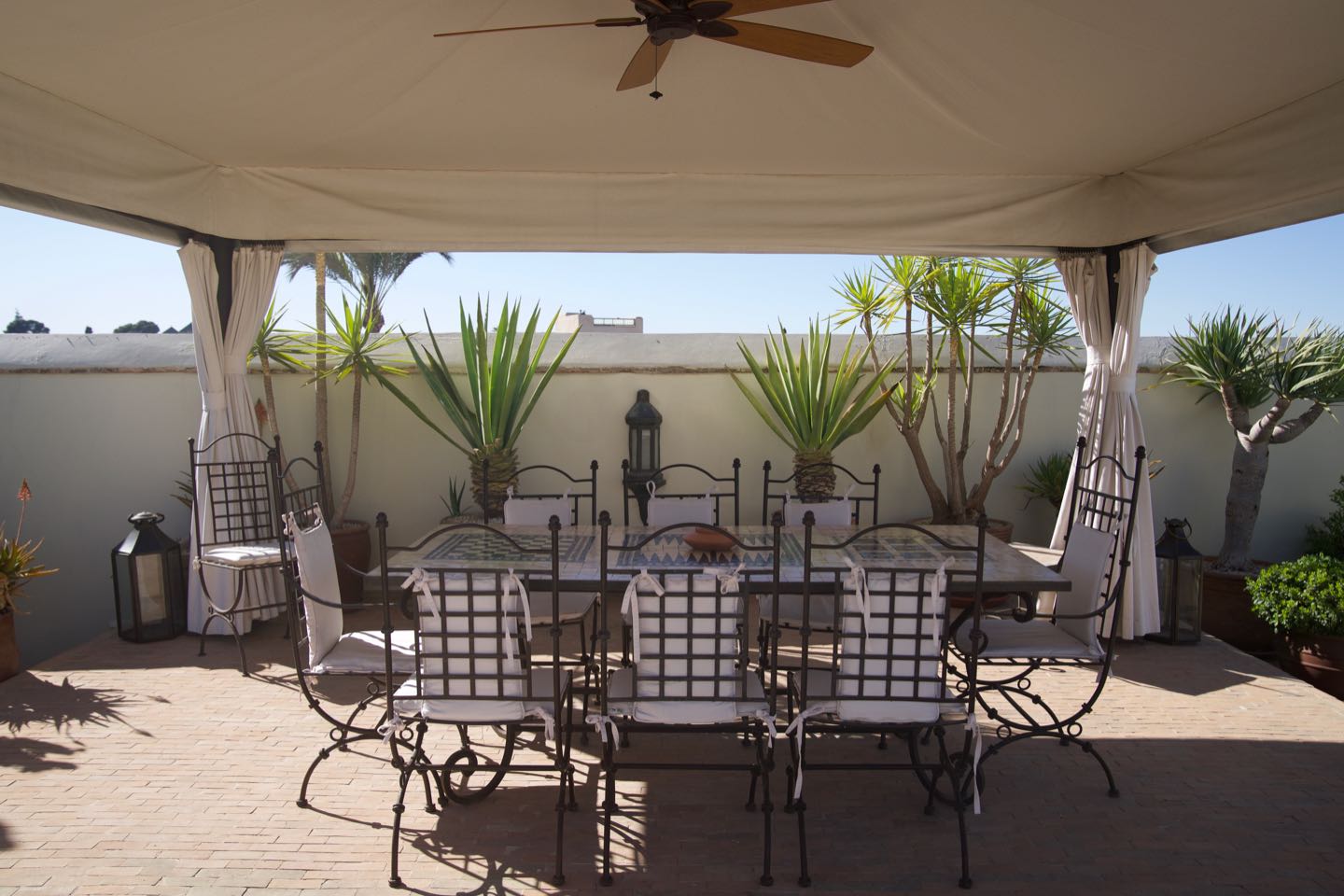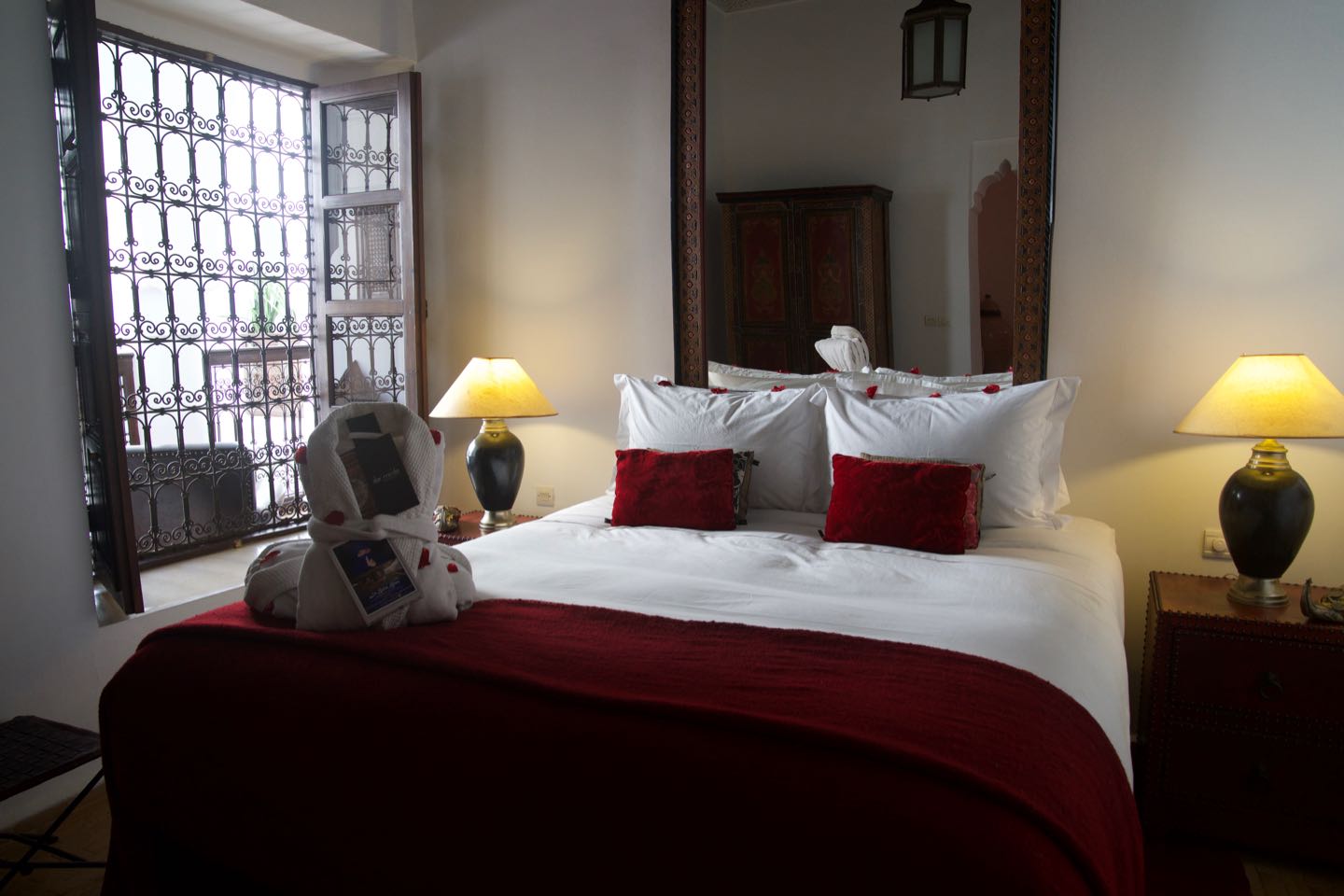 Plan your visit to Marrakesh